Unified by a sense of loss of when they no longer hear birds chirping, villagers of Jatimulyo, with invitations and discussions carried out by village officials and farmer groups who care about the environment, slowly changed their behavior.
By Bambang Muryanto
Three large banyan trees grew intertwined in a corner at the foot of Kelir mountain in Jatimulyo, a village in the district of Kulon Progo that is part of the Special Province of Yogyakarta. Among their branches, hundreds of Zemeros flegyas butterflies, a species found in South Asia and Southeast Asia, fluttered like small fairies.
It was under the cool shade of these trees that together with a bird photographer from Klaten and two journalists from Bandung, I sat enjoying the melodious song of the Hill Blue Flycatcher (Cyornis banyumas.).
This is simply a luxury! Especially since the flycatcher, locally known as Sulingan, was exchanging calls with other birds in a symphony of nature that made the world feel beautiful, peaceful and serene.
Unfortunately the distance between made it impossible for us to directly see the bird clearly, but with the help of a zoom lens, we could observe the bird on the camera's LCD screen. The bird with dominant coating of blue and yellow could not sit still, jumping and turning around on the branch where it was perched as it sang.
This fortunate of being able to enjoy the songs of the Sulingan in its habitat, was actually the fruit of conservation efforts that had been undertaken by villagers since 2014. Now named as the bird conservation village, Jatimulyo was not always like that. It was a center for bird hunters that lead to the declining bird population in the area such as the Orange-headed thrush, Greater Green Leafbirds, various Thrushes, Forest flycatchers and Whistlers.
"The Blue Hill Flycatcher and the Grey-cheeked Bulbul almost became extinct here," said Kelik Suparno, who heads the Conservation Division of the Wanapaksi Farmer Group in Jatimulyo on September 1, 2020.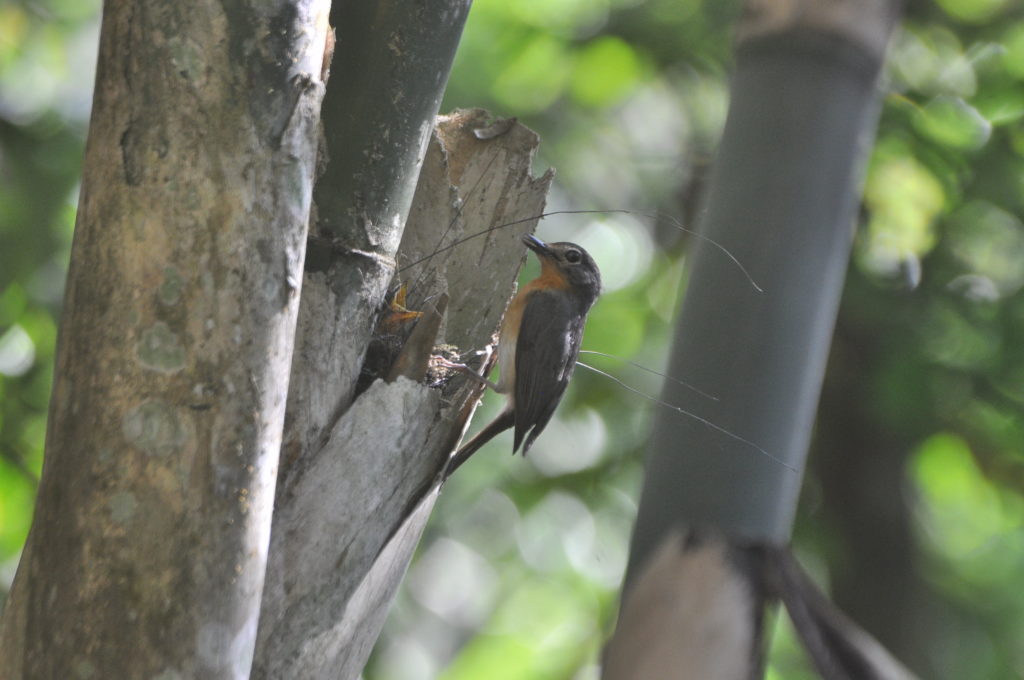 Jatimulyo lays on the slope of the Menoreh Range, a limestone mountainous structure formed in the early Miocene (between 23 and five million years ago) which straddles across three districts – Kulon Progo, Purworejo and Magelang – from east to west.
For those familiar with the history, this forest-clad mountainous range provided a good hideout for Prince Diponegoro and his force during his battle against the Dutch between 1825 and 1830.
Situated at a height of 800 meters above sea level, the 1,600 hectare-wide Jatimulyo village is just 35 kilometers west of Yogyakarta. Villagers here have long practiced planting crops in the forest. Among the trees in the forest, they planted long term crops such as coconuts, sugar palms, silk trees that could shelter coffee, cocoa and vanilla plants under it while the floor of the forest is covered with various spice trees or left for bushes to grow.
The combination of a green mountainous range and the thick forest cum plantations has made Jatimulyo village a favorite habitat for a number of birds. The Yogyakarta Conservation and Natural Resources Agency (BKSDA) has even released a number of raptors there following their rehabilitation.
In a paper entitled "Birds and Coffee: community-led conservation in Jatimulyo village, Yogyakarta, Java, Indonesia" (Journal BirdingASIA 32, 2019) written by Suparno, Imam Taufiqurrahman and Sidiq Harjanto, it was mentioned that there was at least 99 species of birds that could be found in Jatimulyo. An extraordinary figure since it represented 47 percent of the total number of bird species found in Kulon Progo district.
In his book "List of Birds in the Special Region of Yogyakarta (2015)" Taufiqurrahman and friends noted that a number of rare bird species which were difficult to find elsewhere in the region, such as the streaky-breasted spiderhunter (Arachnothera affinis) and the Grey-cheeked Tit-Babbler (Macronus flavicollis) that are endemic to Java island, can still be spotted in Jatimulyo.
It is no surprise that many bird-watchers were flocking in Jatimulyo to observe the birds and enjoy watching them as they search for food or feed their young in their nest. But on the other hand, the village later also became the target for bird hunters.
Hunters came from both the village and outside. They catch birds in their nest at night or use traps during daytime. For villagers, proceeds from the sales of the captured birds could supplement their income as farmers. An adult Hill Blue Flycatcher could fetch up to Rp 750,000 while a young one would fetch about a third of that price.
Paridi is one of the Jatimulyo villagers who used to hunt birds and is skilled in finding bird nests in bamboo groves, sugar palm trees or in cliff crevices.
"Bird buyers used to come to Jatimulyo village to buy birds," he said.
Captured birds were also sold to the bird market in Yogyakarta and similar markets in the area. Demand for singing birds remained high because keeping singing birds is very much part of Javanese tradition for men.
While photo hunting for birds in the village, I met with Soyo, who was with his wife, planting coffee seedlings in their parent's plot of land. Crouched on the ground, he planted the 30 centimeter high robusta coffee seedling one by one. He hopes that he would be able to sell his harvest to the coffee shops that have begun to spruce in the village as ecotourism sa a rapid growth in the area.
Soyo said he felt sad that people actually hunted birds in his village. The local bird population has, as a result, began to dwindle and bird songs were increasingly rare to hear. "What good is working in the forest if not accompanied by the chirping of birds?" he asked.
"Once in the plantation, there was a Hill Blue Flycatcher who built a nest in an embankment and I hoped (once the hatchlings had fully grown) they will sing, to make the atmosphere at the plantation beautiful, but it turns out they were taken away by hunters and I was really angry. The Bulbul bird in the clove tree was also taken away," he lamented.
But now, Soyo can smile again because bird hunting has been prohibited and the forests and plantations were once again filled with the chirping of birds. Soyo has even specially made a hole in one of his gnemon or Melinjo tree in the hope that a flycatcher will build a nest there.
Meanwhile, Suparno said that after a few years, the bird hunting prohibition has led to a resurgence of the local bird population.
"If asked how many they are, we have difficulties in counting them. But meeting birds in nature is now very easy," he said.
Suparno who used to hunt birds in the past, now together with his friends, are actively chasing people intending to hunt birds in Jatimulyo. They would not hesitate in confiscating bird catching equipment such as nets and traps.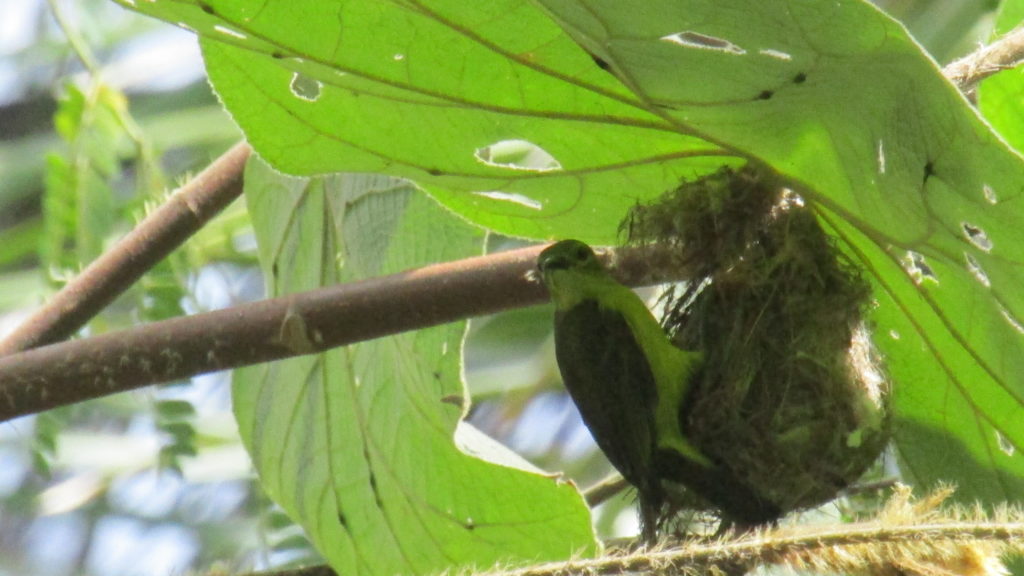 Village regulation
The situation in Jatimulyo began to improve after the village administration issued a regulation on nature conservation in 2014. The 68-article regulation was aimed at harmonizing life with nature, conserve the nature, and ensure environmental justice for the people today and future generation.
The regulation prohibits anyone from destroying the environment and catching birds and other animals such as pangolin (Manis Javanica) and civet (Paradoxurus hermaphroditus).
The village chief at the time, Anom Sucondro, said that the regulation was conceived following concerns that the environment in the village was slowly being degrading. Not only were birds hunted, but fishes in the rivers were poisoned, andesite mined, and water sources were becoming depleting in the dry season.
Villagers at the time, could not forbid those damaging activities because they did not have any legal basis and instrument.
"We really felt disrupted, in the mornings, we could no longe hear birds chirping or the sound of wild fowls," he said.
Bird hunters from the village birds were unhappy with the regulation but Sucondro, who had also issued a number of other regulations to protect the environment in the village, were gradually able to get them to discuss about the importance of protecting the environment.
Fortunately, not long after the regulation was issued, the Indonesian Kutilang Foundation, a bird conservation organization, and the Caring for Menoreh Community, joined forces to assist Jatimulyo villagers to engage in community-based conservation efforts.
In 2015, they also worked together with villagers in the a revival of coffee production that came to a halt following the drop in coffee prices in the 1990s. Earnings from coffee production has been able to offset the losses of revenues from the now prohibited bird hunting.
"The community's process of bird conservation is facilitated by meeting bird watchers such as the Yogyakarta Bird Watchers Association," said former director of the Indonesian Kutilang Foundation, Imam Taufiqurrahman, adding that as an area with high bird species diversity, bird watchers often visit the village.
Meanwhile former bird hunters of Jatimulyo have since established a bird watching group they named the Jatimulyo Bird Watcher Society (MPBJ) which later was merged into the Wanapaksi Forest Farmer Group in 2019. This group, with 52 members, is the backbone of conservation efforts in Jatimulyo.
Suparno said that his group was practicing organic farming in cultivating coffee and other crops in their forest plantations. Chemical fertilizers were not used because in general farmers also raised goats in sheds near their homes.
"We are only using manure and brown waste from leaves," Suparno said.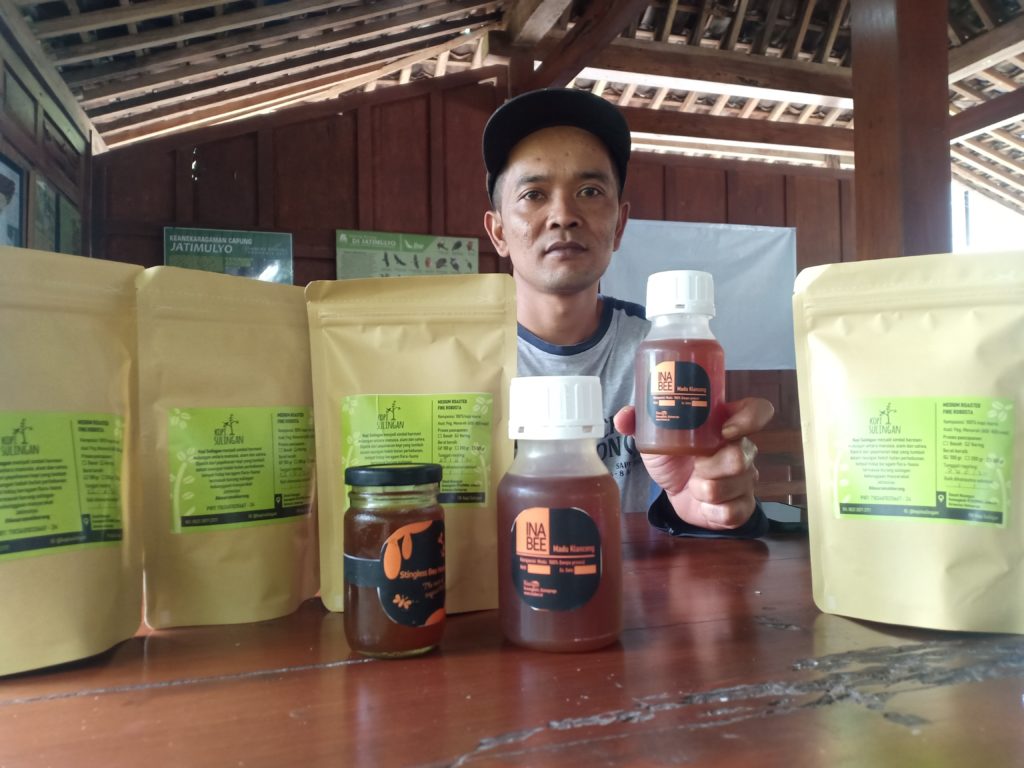 The tradition of only using organic fertilizers was also in line with the village's conservation efforts. Taufiqurrahman added, in his perspective, the use of organic fertilizer is also beneficial for the birds.
"I am sure it is beneficial because there is no dangerous chemical coming into the environment, so the environment remains healthy," Taufiqurrahman said.
In the article they wrote for the BirdingAsia Journal 32 in 2019, Taufiqurrahman, Suparno and Harjanto noted that up until 2019, Jatimulyo produced 7.5 tons of coffee worth Rp 41 million. The coffee beans are sold as "Kopi Sulingan" as a hommage to the bird that had become the pride of the Jatimulyo community.
Suparno who managed the "Omah Naungan" coffee shop in Jatimulyo also takes in coffee harvest from farmers.
"Coffee trees that were neglected are now healthy again. Coffee beans used to sell for Rp 2,000 but now it has increased o Rp 6,000 a kilogram," Suparno said.
Besides coffee, farmers in the village also gained extra revenues from the sale of palm sugar, coconuts and other commodities. Sting-less bees (Trigona spp) are also raised for their high-priced honey. Boxes that serves as beehives can be seen near villagers' homes in Jatimulyo.
"The proceeds from coffee sales go to conservation activities," Suparno said of his coffee shop.
The village also has a nest adoption program, a bird conservation activity in their habitat while also offering financial gains to residents. There is also a program on environmental education for children and another to cover the costs of student papers that discusses flora and fauna topics in Jatimulyo.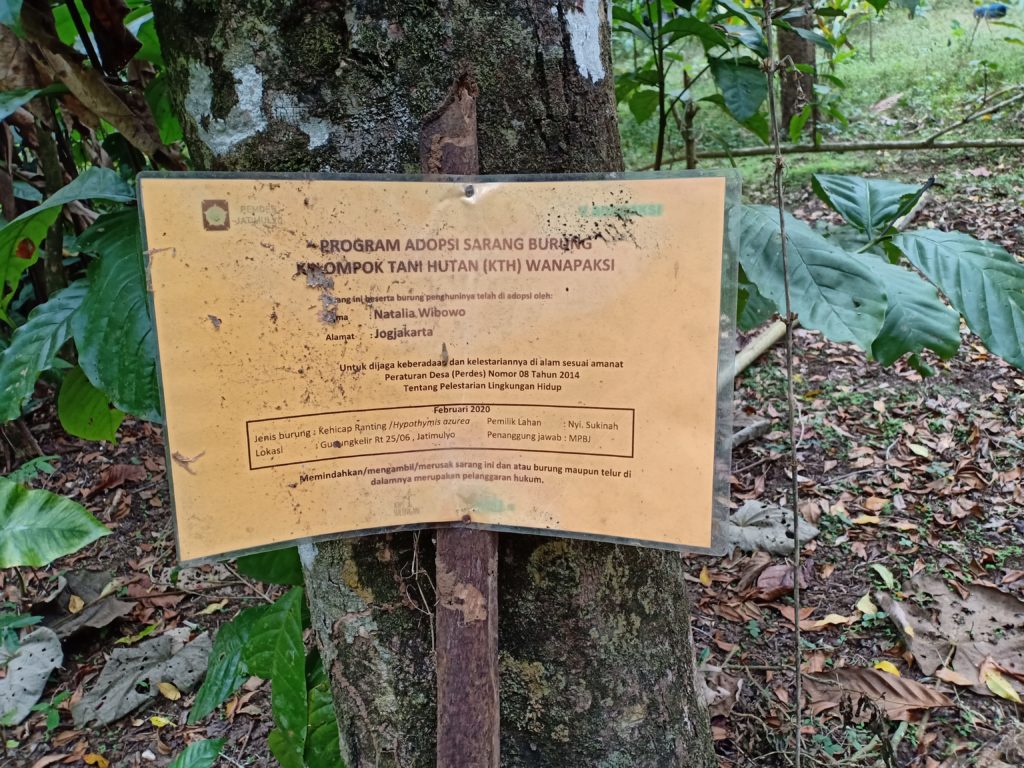 unleashed business opportunities that could help raise the welfare of the community.
Untung Suripto, the head of Section I of the Yogyakarta Nature Conservation Agency (BKSDA) said that he appreciated the conservation efforts undertaken in Jatimulyo. Besides providing assistance and equipment such as cameras and binoculars for conservation cadres, his agency also showed its appreciation by choosing Jatimulyo as the site for the release of a number of rehabilitated raptors.
Early in September 2020, the Yogyakarta BKSDA also published two books on birds, one on the diversity of migrant birds at the estuary of Progi River in the Trisik Beach in Kulon Progo and another on bird diversity in Jatimulyo.
"We also always often share the success of Jatimulyo village when we conduct conservation counseling in other villages. One village in Sleman will follow the footsteps of Jatimulyo," Suripto said.
As dusk neared and I had to leave, worried that the thick fog that was settling down over the region would make our trip back to Yogyakarta difficult. My heart and footsteps were heavy leaving Jatutimulyo which has now become a paradise for birds, but I promised myself that I will definitively return.