Husband and wife, Gede Kresna and Ayu Gayatri, built Rumah Intaran, an eco-house that developed into a learning studio for students and farmers to learn about green architecture, green living and green farming. Anita Syafitri Arif has more.
By Anita Syafitri Arif
Buleleng, BALI. Within seven years, Rumah Intaran (House of Neem Tree), an eco-house built by Gede Kresna in Bengkala village of Buleleng District, Bali, has transformed into a learning center for students and farmers to practice eco-farming and produce their own food.
Rumah Intaran, inspired by the intaran tree (Azadirachta indica) or neem tree/nimtree, is a-16 meter by 10-meter one story house comprises of front porch, a studio with a sitting and discussion areas, bedroom, and smaller porch in the back. A structure easily recognizable in Bengkala Village.
The design of the house optimizes natural resources surrounding it, with windows and ventilations to allow for natural lights through the bamboo-based wall. The roof was installed without ceiling, instead wood slats mounted transversely to get fresh air from the trees while plants surrounding the house still getting enough sunlight.
True to its eco concept, the house was entirely made of recycled materials from Java and Bali, including Pati and Solo in West Java and Pasuruan and Situbondo in East Java.
"My role as an architect is not that important. In other words, the architect is not as important as the materials, all collaborated in accordance to the materials," said Gede Kresna, the founder and architect of Rumah Intaran to Ekuatorial.
Kresna said that the design also ensured land availability for rainwater absorption, leaving spaces to plant and allow neem trees grow inside the house.
"Is the [intaran] tree damaging? No. Neem trees are hugging our house," he said adding that he involved local villagers of Bengkala, especially women to build the house.
Learning the Local Taste
In 2013, Rumah Intaran started accepting internships for students to learn eco-house architecture for three to five months. The first class was attended by four students – two architecture students from Jakarta and India, one product design student from Netherlands and one history student from Australia.
"Initially, we meant to make Rumah Intaran as an architecture studio and we opened opportunities to students and fresh graduates, especially architecture [students], for internships. And, because the studio is located far away from the city, we provided rooms for two or three, maximum four interns for each period," said Gede Kresna, founder of Rumah Intaran.
In latter development, interns were also involved in preparing food in the kitchen which then named as Dapur Pengalaman Rasa (Kitchen of Taste Experience) run by Ayu Gayatri, Kresna's wife.
"They, the interns, were involved in activities to prepare food in our kitchen. Even, Bli (red : typical Balinese greetings for older men) Gede also got them involved in farming in the garden in the village and in rice fields in [Bengkala] village," said Gayatri, who initiated Dapur Pengalaman Rasa.
The kitchen,12 meters long and four-meter-wide, located next to Rumah Intaran Studio also functions as a discussion area.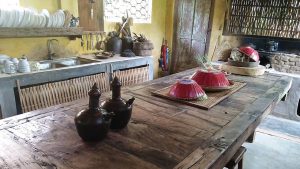 Gayatri chose Pengalaman Rasa for her kitchen's name based on the unique food and beverages produced and curated by the house.
"Through the internships with Rumah Intaran, it made me realize that we need to take it further to food security, at minimum for everyday consumption, such as chilly, lemongrass, and others. In addition to financial saving, it also improves the quality of our environment," said Rofida, a former intern turned staff of the house.
During the internship in 2015, Rofida learned to filter and boil water traditionally using cangkem paon (red : Balinese traditional stove) and woods, planted herbs, washed using lerak (Sapindus rarak) or soapberry as natural soap.
"I want to implement this lifestyle when I go back to Solo, starting with smaller scale, starting with me and my own family," said Rofida.
Until today, there have been seven classes with a total of 22 participants attending the internships program in Rumah Intaran.
"It's nothing fancy, I just hope all intern in Rumah Intaran and Pengalaman Rasa can try and implement these self-sustaining practices – to establish food security – within their own area, at least in their own house and family," said Gayatri.
Kresna and Gayatri also reached out to Bengkala villagers to teach them various green initiatives, such as bamboo weaving for baskets, tempeh making from local ingredients, producing palm sugar and tuak (palm wine) to setting up beehive and harvesting honey.
One of the farmers who received the training, Komang, claimed that the soil is more fertile now as they were taught to compose worm manure or locally known as kascing, a compost suitable for dry land.
"I can farm and plant without chemical fertilizer or pesticide and the result is sufficient, from clove, coffee, taro, cassava, banana to durian," said Komang.
Kresna and Gayatri also manage their clean water, supplied from Tukad Daya river, using eco-friendly materials and traditional stove.
"Happy is not simple. We are happy if our drinking water is healthy and that takes a bit of effort, to produce safe water to consume," said Kresna.
Meanwhile, Bengkala Chief I Made Arpana, said that direct contribution of Rumah Intaran to the village is yet to be seen but he recognized their efforts to reach out to farmers.
"Rumah Intaran existed in 2011 in Bengkala village. Though there were no direct and visible contribution to [change] the face of the village, Kresna and Gayatri have facilitated farmers and women in the village [to practice eco-farming]," said Arpana. Ekuatorial.
Anita Syafitri Arif is a practicing architect born in Makassar, South Sulawesi, who has been conducting research on traditions of the Bengkala village, North Bali, along with her colleague Prof. Sung-Kyun Kim. Anita resides and works in Denpasar, Bali.