Aside from the Corona Virus, medical waste is another life-threatening issue that plagues may countries, including Indonesia. Medical waste is mounting and the government is facing challenges in its management.
By May Rahmadi
The Covid-19 pandemic has revealed that medical waste management in Indonesia needs vast improvement. While the number of positive Corona virus infection case is on the rise, so is the volume of medical waste but even the government is admitting that its medical waste management system is still facing a lot of constraints.
The Ministry of the Environment and Forestry, through its Directorate General for the Management of Garbage, Waste, Toxic and Dangerous Substances even saw the need to convene four coordination meetings with the Health Ministry, the National Police's Detective Unit, the District/Municipal Offices for Environment and Health and representatives of a number of reference hospitals to discuss this topic.
The meetings, on May 14, 15, 18 and 20, 2020 particularly discussed the management of toxic and dangerous waste coming from helath care facilities (fasyankes) such as hospitals, polyclinics and community health centres (Puskesmas), as part of the impacts of the handling of the Covid-19 pandemic.
Director for Performance Assessment of Toxic and Dangerous Substance Management at the Ministry of Environment and Forestry Affairs, Sinta Saptarina, said that the handling of medical waste is of highest importance due to the characteristic of waste – toxic and infectious.
Infectious waste is waste contaminated with blood and other bodily fluids (e.g., from discarded diagnostic samples), cultures and stocks of infectious agents from laboratory work (e.g., waste from autopsies and infected animals from laboratories), or waste from patients in isolation wards and equipment (e.g., swabs, bandages, and disposable medical devices), and may cause human disease and may reasonably be suspected of harboring human pathogenic organisms, or may pose a substantial threat or potential hazard to human health or the environment when improperly treated, stored, transported, disposed of or otherwise managed.
"Because they can get infected with a disease. Toxic waste contains chemicals that can have an impact on health and can also cause air, soil and water pollution," Saptarina told Ekuatorial, on June 23, 2020.
Saptarina said that in general, there are a number of issues in the management of medical waste from Covid-19.
First, there are still many hospitals which are equipped with incinerator but do not have the appropriate permit to operate it. There are also many hospitals with incinerator and but its permit is pending process, and then there are hospitals with no such facility at all.
Second, medical waste transportation and treatment services are still limited and do not yet cover all of Indonesia.
Third, there is a limited capacity to manage ashes from the incinerator.
Fourth, cement factories in the regions that has kiln, capable of reaching temperatures of 800 degree Celcius, the temperature mandated by the Ministry of Environment and Forestry affairs for the treatment of medical waste, do not have the permit to process the medical waste.
So far, said Saptarina, the ministry has continuously tried to overcome the constraints in the management of waste that contains toxic and dangerous substances, known as B3 waste. The Minister of Environment and Forestry Affairs, for example has issued circular number 02 of 2020 on March 24, 2020 regarding the management of Infectious Waste and Household Garbage from the Handling of the Corona Virus Disease.
The circular was addressed to the head of the National Disaster Mitigation Agency/Head of the Taskforce for the Acceleration of the handling of COVID-19, all provincial governors and heads of district and mayors.
The circular contained at least four points:
Hospitals with an incinerator but not yet possessing a license for it, can burn waste during the Covid-19 Pandemic but at a temperature of at least 800-degree Celsius.
The disposal of COVID-19 waste can also be affected at the nearest hospital equipped with an incinerator.
Ash from incinerators can be stored at a Toxic and Dangerous Waste Dump but also by taking its capacity into consideration.
Issues permit to cement factories to dispose COVID-19 waste.
"Cement factories can submit a letter to the Ministry of Environment and Forestry, in this matter the Director General for the Management of Garbage, Waste and Toxic and Dangerous Substances, to seek permission to dispose Covid-19 waste," said Saptarina.
The ministry had previously worked with a number of cement factories to overcome the piling up of waste by destroying medical waste using a kiln owned by a cement factory. The ministry deemed such partnership is important to reduce the risk of spreading disease due to unmanaged medical waste.
Prior to the pandemic, data from the health ministry in February 2019 showed, the national daily volume of medical waste stood at up to 294.66 tons. Meanwhile, waste treatment facilities could only process 187.90 ton per day while hospitals' incinerators could dispose another 53.12 tons per day. This leaves some 70.432 tons of medical waste to be treated every day.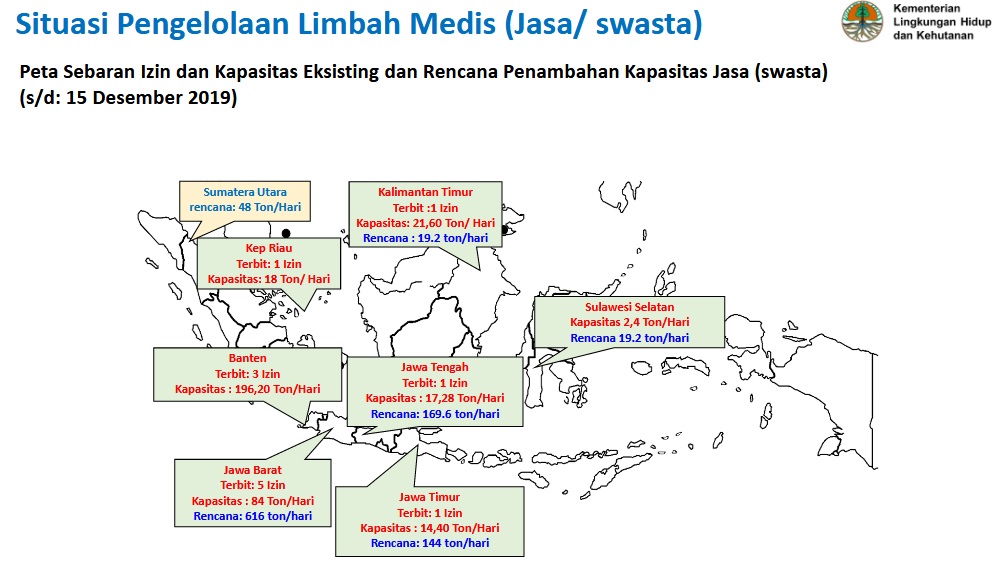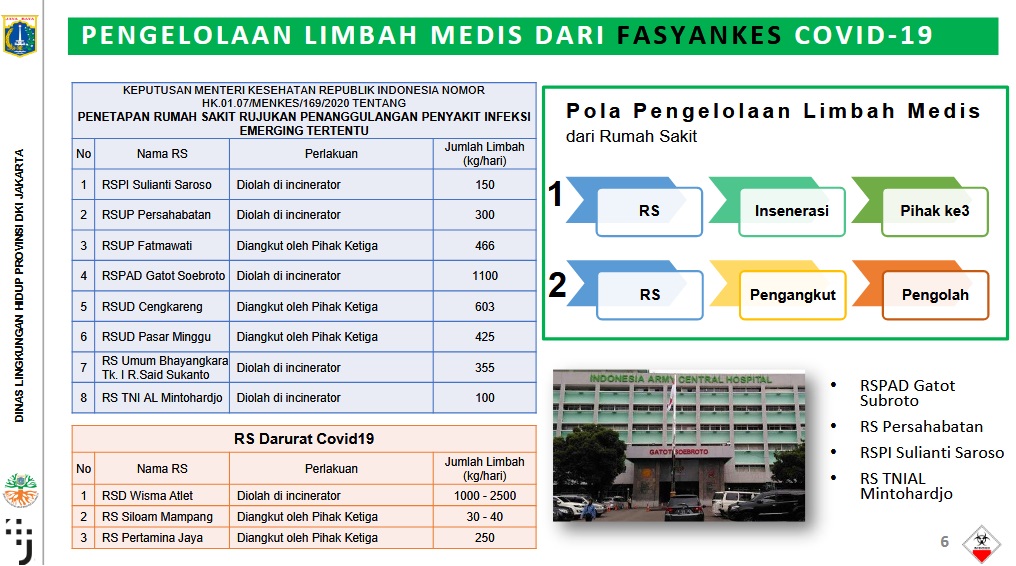 The Secretary General of the Indonesian Environmental Scientist Association (IESA), Lina Tri Mugi Astuti, explains there are four types of medical waste – laboratory waste, pharmaceutical waste, pathology waste and waste from medical protective equipment.
A research conducted by IESA together with the Association of Indonesian Hospitals (PERSI) showed that in May 2020, there was a 46 percent rise in the amount of medical waste compared to before the pandemic. The research was conducted using a survey method involving 133 hospitals in Indonesia – 72 COvid-19 referrals hospitals and 61 non-referral hospitals.
Astuti explained that before COVID-19, one hospital would, on average, produce 135 kilograms of medical waste per day and this figure rose to 198 kilograms per day during the pandemic.
Jakarta alone has 190 hospitals, public and private, but this does not include health service facilities that are specialized for particular diseases. Based on this, Astuti redicts that the volume of medical waste in Jakarta during the pandemic would increase to 37 tons per day from the 25 tons per day of pre-pandemic times.
Based on the same research, a Covid-19 patient in Indonesia would produce six kilograms of waste per day. "The Toxic and dangerous medical waste in the COVID-19 era includes things belonging to the patient and waste from the patient's food," Astuti said. "It is feared that these can become sources of infection."
Saptarina agrees with the results of the research but adds that the data is still being updated.
Medical waste management

In a circular from the Directorate General for the management of garbage, waste and toxic and dangerous substances (B3) on the Implementation of Toxic an Dangerous Medical Waste from the Handling of Covid-19, that was sent to all heads of provincial environmental offices across Indonesia, the ministry also mandated continuous reporting on and the updating of data on the volume of Covid-19 waste and their management for every province.
In another circular from the ministry on the management of infectious waste and household garbage from the handling of the Corona Virus Disease (Covid-19), infectious waste from fasyankes must be stored in a closed container at the latest two days after they were produced.
The waste is then transported to or disposed in an incinerator that has a temperature of at least 800 degree Celsius. Fasyankes could also dispose of such waste using autoclave (heating devise that produces high temperature and high pressure steam) that is equipped with a shredder, if they have such technology.
The ash residue from the burning or the shredding by the autoclave must then be packed and marked with Poison and Toxic and Dangerous Waste label. The waste should then be handed over to a company that manages medical waste or to a hospital equipped with an incinerator.
Meanwhile household medical waste will be managed by a waste-fuelled power plant (PLTSa).
The Sulianti Saroso Hospital for Infectious Diseases (RSPI) is one of the hospitals that owns an incinerator. Data from the hospital's environmental health team showed that there has been an increase in the amount of infectious waste and ash residue from waste burning noted every month since November 2019 up until March 2020.
The hospital saw a drastic increase after the pandemic broke in Indonesia in March 2020.
Waste from body protection equipment and medical waste classified as infections waste by the RSPI, increased by almost 50 percent at that time. From 2.7 tons in February to 4.5 tons in March 2020. The amount of ash residue from waste burning also increased from 387 kilogram in February to 585 kilograms in March 2020. By March 3, RSPI was treating 95 COVID-19.
The medical waste at RSPI were produced by the laboratory, the radiology room, treatment wards, isolation rooms, the Covid-19 monitoring posts, the environmental health infrastructure, and ambulances.
While waste from body protection equipment include masks, gloves, medical robes, head covers, syringe needles, cotton, glass bottles, wire mesh and the patients' food leftovers. All of the above is classified as infectious waste.
Concerning household infectious waste usually produced by People Under Monitoring (ODP), the ministry has directed regional administrations to collect infectious waste such as face masks and gloves, and store them in a closed container for disposal at a waste disposal and processing facility.
The local environmental office is responsible for the transportation of infectious waste from households to a third party – in this case a waste processing firm that would dispose them and transport them to a PLTSa.
The Jakarta environmental office has recorded 409 kilograms of medical waste hat had been transported for disposal at the Bantargebang waste-fuelled power plant in June 2020. The head of the office, Andono Warih, said that rising public awareness on the importance of wearing protective equipment such as disposable masks and gloves, was behind the increase in toxic and dangerous wastes in the capital.
"Previously, this type of waste was concentrated at fasyankes but these days, they also come pouring out of households," he said.
Whose responsibility?
Saptarina said that under the COVID-19 situation, the government is pushing for the handling of medical waste to come under the responsibility of all, and not just hospitals or other health service facilites (fasyankes).
"But it should also be understood that fasyankes need to first comprehensively manage their Covid-19 waste at their work premise," she said.
Data from Saptarina's directorate general showed that there are 112 hospitals in the country with permit to operate incinerator. Saptarina added that hospitals are under no obligation to have their own incinerator.
"The law and regulations stipulate that producers of B3 waste can leave their disposal to other parties holding permit to manage toxic and dangerous waste," Saptarina said.
The essence of a shared responsibility in the handling of Covid-19 waste is to prevent them from piling up, from being illegally disposed and to prevent irresponsible parties to reuse and even resell them.
The ministry hopes that regional administrations at provincial, district and municipal level, could contribute through their offices to conduct or assist the activity of collecting, transporting and disposal of B3 waste.
The contribution should also include covering costs that incur at the disposal facility in general and private hospitals and also at the nearest toxic and dangerous waste management service.
Data from directorate general also showed that by June 2020 there were only 16 licensed companies providing medical waste processing. One in Riau Islands, two in Banten, seven in West java, two in Central java, one in East Java, two in East Kalimantan and one in South Sulawesi.
Technology and education
To overcome the challenges in waste management, IESA has made a number of recommendations. Astuti, the IESA Secretary General, recommends that the government builds on-site processing plant in one of the Covid-19 referral hospitals in each province to accommodate infectious waste from the other COVID-19 referral hospitals during the pandemic.
"At the time, we suggested it for the Wisma Atlet hospital, Kemayoran. That hospital has enough space. The incinerator (that can receive waste from other referral hospitals) can be located there," Astuti said. "While building them, guidance could be provided to the waste processors over how to receive the waste and how to raise their capacity."
Another recommendation is that hospitals with incinerator and some idle capacity could help other hospitals that don't have any processing facility. For example, Astuti explained, if the Army Central Hospital has two tons of idle capacity per day, it can then allow other hospitals to dispose their medical waste, making use of that idle capacity.
"For hospitals that has incinerators with idle capacity, they should help other hospitals process their waste," Astuti said.
At the same time, the government should also actively educate the public on household medical waste so that people, especially those under surveillance, monitoring and asymptomatic, can be aware of the threats of this type of medical waste.
Fajri Fadhillah, a researcher at the pollution control and environmental damage control division of the Indonesian Centre for Environmental Law (ICEL), begged to differ. Fadhillah said that the handling of medical waste using incinerator could give rise to new problems.
He said that emission in the form of ash that results from the burning, contained a dangerous substance, dioxin, a very poisonous substance that can trigger cancer, damage to the immunity system, and cause hormonal problems.
"The burning activity will certainly emit fine particles and this would have a significant impact on public health," Fadhillah said. "The link to respiratory and coronary diseases and early death is already quite clear."
Fadhillah said that processing of medical waste using incinerator is an excessive policy because in a study he had read, the Corona Virus could actually be killed by heating it to 75 degree Celsius. Therefore burning waste in the 800 degree Celsius heat of incinerator, isn't necessary.
He recommended that the government could multiply the autoclave technology to deal with the Covid-19 medical waste. "Technology that could produce heat of between 75 and 100 degree Celcius are already enough to deal with medical waste," he said,
"So, the environmental impact can be prevented while the needs of handling the Covid-19 medical waste can also be met," he said.
The Indonesian Forum for Environment (WALHI) is also in agreement with ICEL, in regards to the use of incinerator for processing medical waste. WALHI campaigner Dwi Sawung said that ash from incinerator has an impact on people around it and the provision of more incinerators, of course, will only exacerbate the impact.
Sawung also echoed Fadhillah, adding that he recommends the government to increase the provision and the use of the autoclave technology, or the construction of new garbage dumping sites. Medical waste that could be recycled, could be reused but if not, they should be transported to a dumping site while waiting for a new technology that could decompose these waste in an environmentally friendly way.
"The rest should be buried at the dumping sites," Sawung said. "Current technology is not yet able to process them so that they can decompose well. If burned in incinerators, it would only lead to air pollutants." Ekuatorial.