North Maluku administration is gearing up to leave its dependence on rice and switch to sago, its local food. The local government is planning to reinforce the consumption sago through policies and technology. A move that was met with enthusiasm by local people who are struggling to keep up with the rising price of rice. Read full report here.
By Budi Nurgianto
Tidore, North Maluku. After decades of consuming rice, Tidore Island of North Maluku province starts to shift its attention to sago as its staple, following the government's policy in allocation of land for innovation.
Sago lost its place as the staple food of Tidore island in 1997 as people started to consume rice, that was cheaper and easier to find. Sago could only be found on special occasions, such as weddings, religious or customary rituals. 
"In the 1990s, our people consume sago, yam, and cassava served with fish. These days, we eat rice more than sago. That is why when I saw someone's selling cheap sago, I asked my wife to buy," said Junaidi Abd Karim, a Dowora villager of Tidore, who works as a construction worker adding that he consume sago when rice price goes up. 
Between 1980s to 1990s, people of North Maluku consume popeda, a local food made of sago (Metroxylon spp) and served with fish curry, as its staple food not only for Dowora and Tidore people, but also Ternate, Bacan, Jailolo, Gebe, Patani, Morotai, Tobelo and Buli. 
They consider sago as high nutritious food similar to rice, corn, cassava and potato. Sago contains 84.7 percent of carbohydrate, 3.69 to 5.96 percent of fiber. In addition, it also contains resistant starch, polysaccharide, and short-chain carbohydrates, which are good for health. 
From sago to rice 
Kuad Suwarno, a lecturer of Agriculture Faculty of Khairun University, Ternate, said, the shift from consuming sago to rice was attributed to economic, social and culture factors. 
Suwarno said that North Maluku people consider rice as a staple food with high social rank. "This point of view influenced the perception of North Maluku to change their staple food [from sago to rice]. Sago, originally as staple food, becomes second class food," he said. 
Another factor, he said, is the declining of sago tree availability due to change in land use, from sago farming to settlements and agriculture, in the past decade.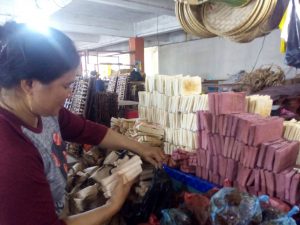 "In West Halmahera, for instance, from a research I conducted in 2014, [I] found 174 hectares of sago plantation converted to agriculture areas," he said. "Meanwhile, in North Halmahera, sago farming land used to build settlements covered a total of 300 hectares in nearly Kao and Malifut Bays areas." 
Based on a report by the Ministry of Agriculture, between the period of 2015-2017, the total of sago plantation, managed by the poeple in North Maluku, reached 3,645 hectares with production capacity of 1,403 tons per year. The number was a staggering decline from 5,431 hectares with 8,961 tons of production per year, between 2005-2014.
Suwarno adds there is also a declining interest in becoming sago farmers due to the arduous production process of sago. It requires at least seven days from harvesting to producing the starch. 
Based on a research conducted by Agriculture Faculty of Khairun Universityin 2016 in Ternate, the largest portion of sago farmers is between 40-53 years old or 41.86 percent, followed by 54-67 years old or 36.5 percent and 26 – 39 years old or 22.09 percent. 
It is in contrast with other crop farmers, such as rice, that reaches up to 16,584 household or six times than that of sago farmers in North Maluku. 
"I dare say that sago plantation availability boosts people's consumption level. As the number of sago farmers continue to drop, people are forced to find other staple food," said Suwarno. 
Based on the 2014 – 2017 North Maluku Agriculture and Plantation Agency report, sago plantation in Tidore Island only covers 179 hectares in 2017, a decline from 241 hectares in 2014. In addition, production capacity also declined from 200 tons per year to 150 tons per year within three years. 
Only 60 out 179 hectares are being managed despite of the city's potential sago production reaching up to 400 tons per year and can reduce Tidore's rice dependency which reaches 70,000 tons per year. 
An effort to decrease rice consumption 
To break away from rice dependency, Tidore administration developed policies to increase sago productivity, says its mayor, Ali Ibrahim. 
Ibrahim said his administration has implemented several policies including prioritizing sago commodity and issuing regulation on introducing sago as household staple food. 
"[…] by prioritizing the strategy to develop sago, gradually, through programs to prepare sago workers, counselors with competence in sago management," said Ibrahim. "If rice consumption can be reduced, I believe that Tidore can be independent from food supply outside the district. However, to achieve this, we need proper and good preparation." 
Ibrahim adds that sago production of Tidore can only meet demands of local households and is not sufficient for a large scale industry. 
"Meanwhile, the prospect is promising. Sago can be processed into a variety of food with high selling value. However, we have not seen any effort in developing this more seriously," he said. 
One of the obstacles in sago processing is how little, if non at all, the applicaiton of technology is. Sago production in North Maluku is mostly done by traditional way, a skill that is passed on through generations. 
"The plan is we [Tidore Island Agriculture Agency] will try to collaborate with universities in North Maluku to create a technology, at minimum, a tool easy to use to help people harvest sago," said Idham Umasangaji, head of North Maluku Agriculture Agency, on Thursday (26/4). 
Through partnerships with universities, Umasangaji said, such as Khairun University of Ternate and Muhammadiyah University of North Maluku, there should be initiatives to  to create uncomplicated technology with multiple purposes, such as sago grater or starch extraction tools. 
"To date, to produce 100 kilograms of sago starch, workers need seven days. It is possible with innovative tools such as grater and extraction, it can speed up production time," he said. 
High consumption, low supply 
Iskandar Halil, Tidore Island Food Security Agency, said sago starch for Tidore is currently being supplied by South Oba and North Oba. Based on Tidore Island Food Security Agency, South and North Oba sago starch production reached 100 -120 tons per years in 2017. 
"For this year, [sago starch production] is predicted to rise. [Based on] report up to April 2018, Tidore sago starch production reached 67 tons," said Iskandar. 
Jumiati Salama (38), sago starch seller in Sarimalaha Market of Tidore, said the price of North and South Oba's sago ranged between Rp12,000 to Rp15,000 per kilograms. Salama said she can sell seven to ten kilograms of sago starch with a total of Rp160,000 per day. 
"At least 30 sellers selling sago starch in Sarimalaha of Tidore Kepulauan. I, myself, have been selling it for six years. Previously, I sold red onion and pepper," she said.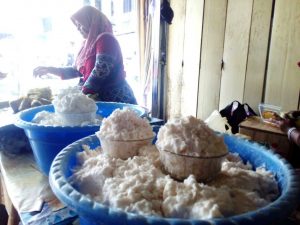 Salma adds that consumption of sago starch is quite high. "Nearly every day customers buy sago starch, especially during Ramadhan month, the demand for sago inreases. I can sell 10 to 20 kilograms per day in that month," she said adding that high demand forced sellers to buy sago from Ternate and North Halmahera cities. 
Sugimin though, a noodle seller, gets his sago starch supply from Sumatra and Riau when local distributors fail to meet demands. 
"I usually get supplies from Sumatra and Riau if local production is scarce. And, I usually buy 50 to 75 tons," said Sugimin. 
Both Sugimin and Jumiati welcome Tidore administration's plan to place sago as local staple food. 
"Sago is Tidore's indigenous food [so] I agree if the government wants to make it as staple food, especially  when local sago starch has good quality and clean. I myself chose to consume more sago starch from Tidore," said Sugimin. Ekuatorial.
Budi Nurgianto is a correspondent and freelance journalist who was born in Tidore and currently works in Ternate,  North Maluku.