Initiated by a school student, the Suku Anak Dalam women learned how to turn waste into handicrafts. Even though they have yet to see its economic benefit, the skill has slowly shifted the image of the Suku Anak Dalam as a backward community and improve social relations with neighboring villages.
By Elviza Diana
Bungo, JAMBI. Even though she is just a high school student, Juliani has inspired other women in her community, Rombong Hari of Anak Dalam tribe, a minority group in Indonesia, to turn plastic waste into crafts, while instilling self-confidence and improving their relationships with outsiders. 
At least 200 people from the Rombong Hari group settled in the 6.8 hectares housing area located in Pasir Putih village of Bungo district, Jambi province, since 2013. The settlement area was designated by the Social Ministry as the group gradually begun abandoning their nomadic lifestyle to settle down. 
"Initially, [I] saw villagers of Pasir Putih looking for used-plastic cups. I was curious because they were looking  for [the cups] even all the way into our settlement area," said Juliani, who is in her second year at the Pelepat 1 State Vocational School to Ekuatorial, last September.  
She eventually learned how to turn plastic waste into fruit baskets from the villagers and shared this useful skill with her family members, — mother, grandmother, aunty and cousin –, within a month. 
"I kept on making [crafts] in front of my house. At first, they [the women] just looked around, then they got curious, and finally joined [us]," she said recalling her experience in getting the women in her group to join her workshop. 
Juliani said that the activity also helped them to explore plastic waste potentials, instead of simply burning them. 
"People consume water in plastic cups, they are everywhere so why don't we turn them into something more beneficial," she said. 
By April, Juliani had gathered 30 women from Rombong Hari to work in her workshop and crafted fruit baskets and glass containers. They were divided into groups, consisting of two to three women, each assigned to cuting the plastics, decorate and finishing work.  
Unfortunately, she said that they could only produce 34 products due to limited budget. 
"The challenge is that we don't have funds to buy other materials so we have to stop production. It will need Rp15,000 (US$1.02) for one product," she said adding that they haven't been able to sell their products and simply gave them as souvenirs to visitors. 
Improving social relations
Following their settling down on government land, the males of Rombong Hari go out to hunt and gather other forest resources to sustain their family, while the women look after their household and some resort to gardening. 
Bongkok, one of the women of Rombong Hari, said that she joined Juliani's waste workshop to kill time and she is proud of her new skill.
"Women of Anak Dalam tribe have the basic skill for weaving passed down by their ancestors. However, weaving with plastic is different and it's the first time. This is good [activity] to kill time," said Bongkok who joined the workshop for three months.  
The knowledge to turn waste into something useful has also improved their interaction with residents of neighboring Pasir Putih village, Bongkok added.
"We often come to Pasir Putih village to look for information on health and education. Many villagers come to visit us too, they sometimes just come to interact or ask about forest resources," she said. "All this time, we feel there is a distance between the tribe and Pasir Putih villagers. We don't feel we have the same capability as them. But, this skill makes us feel appreciated and equal." 
Based on data by the Indonesia Conservation Community, WARSI, there are 5,235 people of Anak Dalam tribe living in Bukit Duabelas National Park area, that spans across Sarolangun, Merangin, Batanghari, Tebo and Bungo districts, which covers 60,400  out of 130,000 hectares.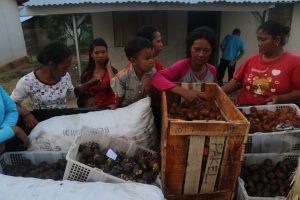 The most common perception about Anak Dalam tribe, especially from outsiders, include uneducated, underdeveloped, primitive and that they thrive in unsanitary livng conditions, prompting them to isolate themselves. 
Indah Setiawati, a Pasir Putih villager, said that there are villagers who have accepted the tribe but some have not. 
"Some are not afraid and interact with Anak Dalam tribe, but some don't [interact]. They smell, so some villagers still hesitate to interact with them," said Setiawati. 
Meanwhile, Dewi Yunita Widiarti, Program Manager of Cendekia run by Pundi Sumatra, a non-profit organization that provides assistance for the tribe in three districts, — Sarolangun, Merangin and Bungo –, in the last six years, said the potential of recycling plastic waste into crafts by the community needs to be developed. 
"We will develop this potential to empower women of the tribe next year. It [the activity] should be able to serve as a source of income," said Widiarti. 
Widiarti added, eliminating any stigma and acceptance by other community are key in improving the tribe's livelihood.
"This interaction is important in speeding up Anak Dalam tribe acceptance by outsiders. The point of entry can be education, health, and also women empowerment through a waste management program," she said. 
Shift in livelihood 
A swath of forest area in the Sumatran crossing that has been inhabited by the Anak Dalam tribe has, over the years, been transformed into industrial plantations, large-scale plantations, settlements, industries, and mining.
Based on a satellite image analysis by WARSI in 2017, forest covers 930,000 hectares or 18 percent of Jambi's total area. 
Mak Nur, a female elderly of Rombong Hari, said that it is getting more difficult to hunt. 
"Sometimes in a week, there were no animals. It is getting harder to find pigs, even  all the way to Tebo district," said Mak Nur. 
Hari, chief of Rombong Hari, said that they have started to find alternative sources of income, indluding cattle farming and farming. 
"Some learned how to raise goats, fish farming and some already own rubber plantation. We try to survive with other activities aside from hunting," he said. 
Bongkok said they already started to plant sweet potatoes and vegetables in the settlement area. 
"We also learned to plant vegetables. In case of tubers, were able to plant them since a long time ago. Currently, children can go to school and they need to be educated to be able to preserve and help sustain the community," she said. 
Apart from hunting and harvesting forest resources, Anak Dalam tribe also plant rubber, although that is yet to make ends meet. 
Each family receive half to one hectare of rubber plantation, in average, which can produce at least 20 kilograms per week with Rp3,000 (US$ 0.20) per kilogram. 
Sutono, director of Pundi Sumatra, said hunting, as the main source of income for Anak Dalam tribe is no longer sufficient. 
"So, it is a necessary for Anak Dalam tribe to earn livelihood from production. To get into goods or service production, it will take a long time to have the skill and knowledge," said Sutono. 
"The most feasible at the moment is farming, such as plantation, cattle and fish farming. Plantation requires a certain amount of areas. But, these people do not have land, so their options are cattle and fish farming and managing crops in their own yard ." 
There are eleven groups of Anak Dalam, located in Sarolangun, Merangin, Bungo and Dharmasraya, that are currently farming and raising cattle, assisted by Pundi Sumatra. The groups determine their own business model. 
"The groups participated in planning out their business. Some wanted to raise pigs but  they changed their minds because they were reluctant towards the neighboring village, that is Moslem dominated," he said. EKUATORIAL. 
Perwakilan lembaga pendamping Cendekia, berbagi informasi terkait pengolahan sampah plastik ke komunitas Suku Anak Dalam. Sumber: Elviza Diana.