Jakarta has now banned the use of single-use plastic bags. What is the urgency behind this policy and what are its shortcomings?
By May Rahmadi
"We are really dependent on plastic, it turns out," Yaurisa Ananta, a resident of East Jakarta said on Tuesday (30/6).
Aya, as she is better known, was commenting after shopping at a stall not far from her home. She had brought her own paper bag to by some eggs, but the eggs already came in packages of four, wrapped in a plastic bag.
The stall owner was reluctant to take the eggs out from their plastic packaging and so Aya had to take several plastic packaging into her paper bag. "So, whether you want it or not, you had to use plastic again," she said.
At another time, Aya bought seblak, a Sudanese snack, near her home. Despite having asked the seller to put the seblak into a glass bowl, the seller served them in a Styrofoam container, arguing that he did not have any glass bowls.
Aya is a Jakarta citizen who wants to the use of plastic. The awareness grew because of what she sees every day in her neighborhood, especially in the some three meter-wide canal passing through the Cipinang area. The canal is littered with plastic waste, mostly plastic bags, baby diapers, plastic bottles, and snack packaging.
In her view, plastic should not be used only once, and that is why she often carries her own plastic bag wherever she go. "But a lot of people still think I am weird, shopping, bringing my own plastic bags," she said.
This view is reflected in the result of a research conducted by a waste research team of the Indonesian Institute of Sciences (LIPI). In a recent online discussion, team member Intan Suci Nurhati, said that people's concrete action in plastic management remains very low even though 98 percent of the people view that separating plastic from household waste was important.
"But when we ask them whether we needed to separate the plastic? Only 51 percent responded in the affirmative but only one of every two respondents who actually separates plastic from the rest of their household waste," Nurhati said on June 1, 2020. "Almost all deemed it as important to manage plastic, but we have not yet fully transformed this into concrete actions. Supporting plastic management, does not guarantee action."
On July 1, 2020, Jakarta officially bans the use of single-use plastic bags at shopping centers. The Jakarta Governor Regulation (Pergub) No. 142 of 2019 obligates use of environmentally friendly shopping bags in shopping centers, supermarkets and traditional markets.
Nurhati said that such policy was needed as plastic waste is a serious problem in the capital.
Based on her research, a total of some 8.3 tons of waste was carried by nine rivers in Jakarta, Tangerang and Bekasi into the Jakarta bay and the majority of the waste was plastic.
"From all of t waste, 59 percent is plastic," she said. "Therefore, there is an urgency to intervene the matter of plastic waste through regulations and public awareness," she added.
Behind the much awaited ban

Jakarta Head of the Jakarta Environmental Agency, Andono Warih said that plastic waste had already become a global problem. In 2015, the Jambeck Research Group released the results of its research "Plastic Waste Inputs from Land Into the Ocean" it had conducted in 192 countries.
The report ranked the 192 countries based on their unmanaged plastic waste in 2010.
"Indonesia contributed 1.3 million tons of plastic waste that went into the sea every year," Warih told Ekuatorial, Wednesday, July 1, 2020. "It placed second in rank after China which contributed 3.5 million tons per year."
Data from the Jakarta Environmental Agency showed that the volume of waste by end of 2019 had reached 7.7 tons per day in the capital. At the Bantar Gebang integrated landfill, plastic waste accounted for 34 percent of the 39 million tons of garbage there, mostly plastic bags, Warih said.
The pile up, he said, is because plastic bags collected by scavengers could not be resold to the recycling industry. "This type of waste needs dozens up to hundreds of years to decompose naturally," he said.
The Balance, a website on small scale business financing, said that plastic needed up to 1,000 years to decompose by itself at a landfill. Plastic goods that we use in our daily life, would need 10 to 1,000 years to decompose. Plastic bottles, for example, would need 450 years to decompose.
A 2018 data from the Jakarta Environment Agency showed that supermarkets, malls and traditional wet markets produced a total of more than 1.7 million plastic sheets weighing about seven tons per day. While food and drink sellers outside of those three venues produced about 143 tons of plastic and Styrofoam waste each day.
On a daily basis, Jakarta has to cope with a minimum of 150 tons of plastic and Styrofoam.
A stern regulation is needed for Jakarta to deal with its waste problem. The ban on the use of plastic bags in shopping venues is the first step, taking into consideration that there are many substitutes for single-use plastic bags.
Under his regulation, the management of shopping centers, supermarkets, and traditional markets have a number of obligations to meet. Among others, the mandatory use of environmentally friendly shopping bags, the ban on use of single-use shopping bags (in their stores), and carry out education on the use of environmentally friendly bags.
Warih claims that the majority of businesses support this policy as it reduces the costs incurred in having to provide single-use plastic bags. Consumers can shift to using environmentally friendly bags made from various material including canvass, woven pandanus, and other shopping bags that can be used repeatedly.
"The alternative to single-use plastic bags is to use environmentally friendly shopping bags which are now widely available in markets," he said.
Under the new regulation, the management of shopping centers, supermarkets and traditional markets could obtain regional fiscal incentives if they comply with the obligation to use environmentally friendly bags and promote their use. These regional fiscal incentives could include the reduction or easing of regional taxes.
"A year after the gubernatorial regulation 142/2019 came into effect, the mechanism for incentives would start to run," Warih said.
Alfamart Corporate Communication General Manager Nur Rachman said that Alfamart is in support of the policy of the regional government. He claims that its consumers are already getting used to bringing their own shopping bag.
"Under the paid shopping bag program that Alfamart has implemented since a year ago, our consumers have already the awareness to not ask for plastic bags so, the campaign of this gubernatorial regulation will be easier to implement," Rachman said.
The education carried out by Alfamart is usually when customers are at the check out counter. Alfamart personnel in Jakarta would inform consumers about the prohibition of the use of single-use plastic bags. Announcements were also made through posters displayed at the outlets or through creative contents in the social media.
If consumers do not bring their own shopping bags, Alfamart provides environmentally friendly shopping bags made of durable material such as spunbond (polyester fabric) for Rp 4,000 and Rp 5,000.
Rahman noted that there hasn't been any significant impact on Alfamart's sales since the policy took effect in early July. What was clear, he added, there was a reduction in production costs as the provision of plastic bags has been eliminated.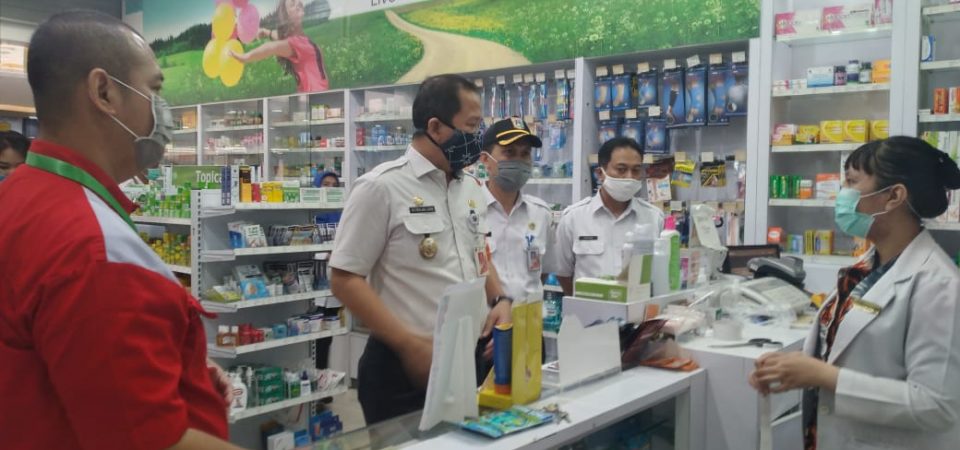 Beyond policy implementation
Researcher from the Indonesian Center for Environmental Law (ICEL) Bella Nathania expressed appreciation of the ban by the Jakarta administration because it was aimed at curbing the use of single-use plastic bags. But Nathania also has some reservations.
Nathania said that there remain loopholes in the regulation that need to be addressed. The Jakarta administration did not specify a period of transition from the single-use plastic bags to the environmentally friendly bags. This, she said, provides ground for business owners to delay the transition, while they continue to provide single –use plastic bags as long as the environmentally friendly alternative isn't widely available.
Nathania was also of the opinion that the Jakarta administration could provide incentives to business players to encourage the acceleration of the transition to environmentally friendly bags. "This could be accelerated with incentives actually," Nathania said.
She also said a much clearer definition of an environmentally friendly bag should be made in the regulation. A sharper definition would have made the transition smoother, she argued.
"Environmentally-friendly bags, are they from paper? Or polyester?" she asked.
No less important was the publication of law enforcement. The regulation outlines administrative sanctions from written reprimand, non-compliance fines, to freezing or revocation of permits, to businesses that fail to comply.
Nathania asks that the Jakarta administration publish the names of businesses sanctioned for failing to comply to the regulation, adding that the carrying out of sanctions is public information, and should be made public
"That is part of ate administration. Therefore, the enforcement of the law is a public information," Nathania argued.
Making the name of the violators public, would not only serve as a deterrent in the form of a social sanction but will also tell the public about which businesses that were ignoring the ban on the single-use plastic, in hopes that it will encourage them to participate in reducing single-use plastic bags.
Nathania also regrets that the Jakarta administration has not regulated the price of environmentally friendly bags sold by retailers. The administration should determine the ceiling price of the greener alternative to make this ban affordable and inclusive.
In response to the transition comment, Yogi Ikhwan, the spokesman for the Jakarta Environmental Agency, said that the ban should already be in full swing as the administration has given businesses six months of transition time, following the adoption of the law on December 31, 2019.
"During that six months, we intensely conducted direct dissemination to the managements through for example, the association of retailers. We also used the media and sent out letters," Ikwhan said. "So, it was not immediately in effect after the regulation was published."
Ikhwan said that administrative sanctions on businesses that fail to comply will be published but the implementation is still under discussion. One possibility would be for the information to be accessible at the official website of the Jakarta Environmental Agency.
"We are still in the first month. Violations that occur this month would be followed up in the next month. We have not yet issued sanctions," he added.
Ikhwan also said that under some requirements, those businesses which complied with the regulation would receive an incentive in the form of a tax relief. The incentive would be formalized in a Gubernatorial regulation, he added.
"That is being studied. The mechanism would be a special gubernatorial regulation," he said.
On the absence of a precise definition of the environmentally friendly shopping bag in the gubernatorial regulation, Ikhwan explained that it was intentional, to prevent anyone from making profit from the regulation. The Jakarta administration also did not want any monopoly in the development of green bags.
"It does not refer to any particular product or design. What is important is that the bag is reusable and the material could also be reusable," he said. "If it is only one particular material, an entrepreneur can dominate, there will be a monopoly again. By not defining it, micro, small and medium scale enterprises can also come in," he said.
The same argument was also used by the administration for not setting a price for the environmentally friendly bags to be charged by retailers. The aim, he said, was to encourage a healthy business competition. "Let the market decide," he added.
Aya, the East Jakarta resident, was in support of the Jakarta administration's efforts to reduce plastic use. Ananta saw it as a good first step.
"As a first step this is really good, because the Indomaret outlet near my place already understand the regulation and people now bring their own bag. So, the circulation of plastic in the society will then be reduced," she said.
Ikhwan said that as public awareness and habit in reducing waste rise, there is the possibility of further widening the ban beyond supermarkets, malls and traditional markets. Small food hawkers like the one selling Seblak near Ananta's home, for example.
"The gubernatorial regulation (Number 142 of 2019) is social engineering tool. The awareness and concern of the people for the environment will rise, they would become accustomed to bringing their own containers, so that wherever they shop, they already have their reusable containers," he said. Ekuatorial.