Tire particles can cause pollution that is many times worse than that produced by cars, according to research.
The content of Agnes Rosita's (38) small pouch is different from those of other online motorcycle-taxi drivers. An inhaler — a handheld aerosol device used to deliver medication to the lungs — is among other things found in the pouch of this motorcycle-taxi driver from Depok. 
With the inhaler close to her at all times, Agnes has been able to transport people to remote corners of the greater Jakarta areas for the past six years.
Agnes does not always use her inhaler. When experiencing minor breathing problems, Agnes simply inhales the therapeutic aroma of eucalyptus oil. This essential oil has been used for generations in her family and  helps her breathe more freely.
Every day, Agnes leaves her home at dawn, only to return late at night. Having exposed to and inhale exhaust fumes and other air-suspended fine particles in Jakarta's air, Agnes recognised the health woes she is experiencing. Sometimes she stops by the side of the road and uses the inhaler to help her breathe. 
Other times, Agnes has to stop to simply warm her hands and body with eucalyptus  oil. "If I force myself, I will collapse. That will happen when my condition is not optimal. It is really difficult for me," Agnes said during an interview with Kontan.co.id on Monday (11/14).
Agnes has suffered from asthma since childhood and she is aware of the increased risks due to her current profession. Fortunately, Agnes says, she has yet to experience any difficulty when driving her customers.
The flexible hours is what has kept her going. "With these hours, I can go home and take care of my children," said the single mother who spends 13-15 hours on the road each day.
As a motorcycle-taxi driver, Agnes abhors North Jakarta. Those familiar with the part of the city that faces the Bay of Jakarta know that tens of thousands trucks with their huge wheels pass the roads there every day, sending dust particles into the air, especially when braking.
Agnes has to ride her motorcycle through this thick air pollution every day. 
When it rains, the rainwater that runs into the mostly open sewers, is dark and murky, indicating that it swept a lot of dirt on its way, including oil residues and from the rubber tracks left by tyres on the asphalts.
The dirt from the air also sticks to cars, motorcycles, bus stops and other building structures along the road. It also not only sticks on Agnes's jacket but is also inhaled  by her and other road users, including fellow motorcycle-taxi drivers.
Living side-by-side with dust and other air pollutants, is a risk Agnes has to bear. 
***
Aprilia Dwi Susanti (32), a resident of Ciledug, a suburb of Jakarta, shares Agnes' experience.  An online motorcycle-taxi driver since 2008. Since then, April, as she is affectionately known, is also suffering from shortness of breath. 
"Doctors told me to use an inhaler because of the severe shortness of breath I am having," April explained.
Agnes and April have to spend a monthly IDR 500,000 from their own pocket to purchase inhalers. The money comes from their hard work transporting passengers.
And Agnes, who is her family's breadwinner, cannot afford to pay the monthly premium for the state health insurance scheme BPJS. While applying for the government's health insurance also takes a lot of time and effort due to the bureaucracy.
Agnes and April are only two of the some 6,000 online motorcycle-taxi drivers operating in Jakarta. Rusli, Chairman of the Central Executive of the Aerospace and Transportation Workers Union (SPDP) said, out of the 6,000 drivers in Jakarta, 1,000 of them are women. 
Meanwhile, Taha Syafaril, Chairman of the Online Drivers Association (ADO), said female online motorcycle-taxi drivers account for around 20 percent of the 700,000 to 1 million online motorcycle-taxi drivers in the Greater Jakarta area.
If they fall sick, they have to cover the healthcare costs on their own. "There are also those who take insurance and health services, but they have to pay for themselves, that is not their company's responsibility," said Rusli, who is also an online application-based motorcycle-taxi driver.
Teuku Parvinanda, Vice President Corporate Affairs at Gojek — one of the country's leading online ride hailing application — claimed that the company supports its drivers' needs in various ways. "Gojek also provides ambulance services and quick response units, in order to maintain the safety of drivers and customers when using Gojek services," said Teuku.
Gojek also helps facilitate drivers' registration for the BPJS-Ketenagakerjaan scheme (employees social security system) but drivers are responsible for the premium.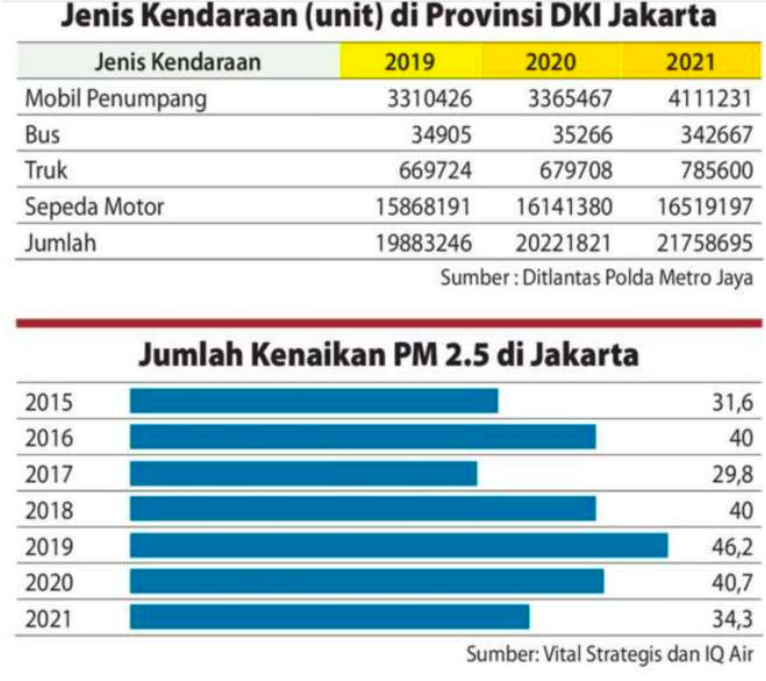 Threats of diseases 
Agnes and April aren't the only motorcycle-taxi drivers dealing with declining health, many others are too. Unfortunately, there is no routine general check-up mechanism for drivers in place. 
Even if they go for regular health checks, they would still need to cover the costs or those who has, can use the BPJS Health facility.
Igun Wicaksono, Chairman of Garda Indonesia Online Motorcycle-Taxi Driver Association says motorcycle-taxi drivers will start experiencing health impacts from air pollution 10-15 years after becoming drivers.
The impacts may include lung cancer, respiratory to skin problems or other specific conditions as a result of direct daily exposure to air pollution. "The impact of pollutants will affect the health of online motorcycle-taxi drivers years later," said Wicaksono.
Budi Haryanto, Air Pollution Epidemiologist and Environmental Health Surveillance at the Faculty of Public Health, University of Indonesia, confirmed that intense air pollution can cause lung function disorders, both in the short and long term, among others.
"Online motorcycle-taxi drivers who are constantly on the road and continuously exposed to poor air quality in Jakarta will suffer an adverse impact in the short to long term," Haryanto told Kontan.co.id, Thursday (12/15). 
When a person receives high levels of pollution over a long period of time, they may be more likely to suffer lung damage.
Haryanto conducted a study on the effects of pollution on micro bus drivers in Jakarta. The study indicates that 56 percent of micro bus drivers suffer from impaired lung function. His research was conducted in April – May 2019 involving 130 drivers serving 9 routes from the Kampung Melayu Terminal in East Jakarta. 
While micro bus drivers may seemed protected inside their vehicle, they were still exposed to dust and pollution outside. Haryanto also studied exposure to indoor particulate pollution, from Particulate Matter/PM measuring 2.5 microns on people in Rawa Terate sub-district near the Pulo Gadung Industrial Zone, East Jakarta.
The study focused on adults who lived in the area for more than 5 years. Despite living inside behind closed doors, Haryanto said, 38.5 percent of the 112 participants experienced impaired lung function due to exposure to PM2.5.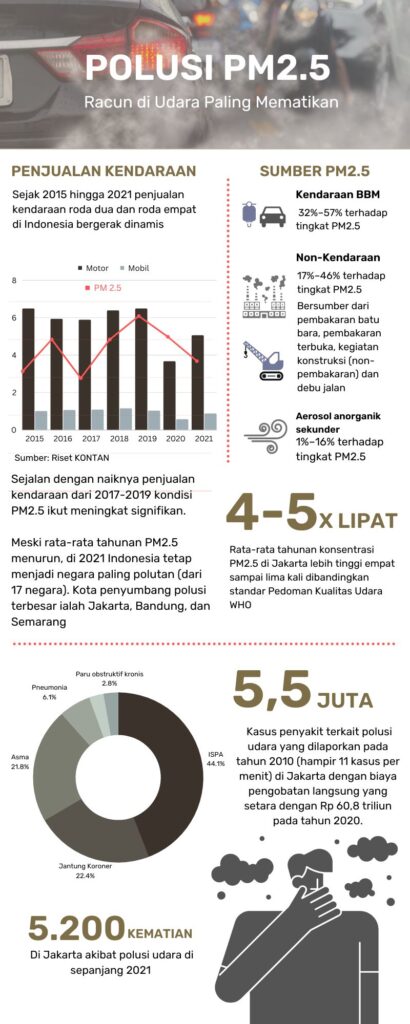 Erlina Burhan, a lung specialist at the Persahabatan Hospital in Jakarta, said that even at home, Jakarta residents are affected by PM2.5 dust, and online motorcycle-taxi drivers who spend most of their time outdoors are most susceptible.
Female online motorcycle-taxi drivers face greater risks. As one of the vulnerable groups, long-term exposure to air pollution may affect fertility. The State of Global Air 2020's study suggests that air pollution in the long term can cause miscarriage among pregnant women or poor birth conditions.
"Air pollution leads to various complications in pregnancy, ranging from babies with low birth weight, miscarriages and other pregnancy complications," Burhan told Kontan.co.id, Wednesday (11/30).
Based on data gathered by Vital Strategis, there were 5.5 million cases of disease related to Jakarta's air pollution in 2010.
They included 2.45 million cases of acute respiratory infection, 1.24 million cases of coronary heart disease, 1.2 million cases of asthma, 336,000 cases of pneumonia, 154,000 cases of bronchopneumonia, and 154,000 cases of chronic obstructive pulmonary disease. 
The medical costs for treating these sicknesses reached an estimated IDR 38.5 trillion but with inflation, the cost would be equivalent to IDR 60.8 trillion in 2020. However this figure did not include the cost of premature death, lifelong disability, and decreased labor productivity due to deteriorating Jakarta air conditions.
Tyre particles in Jakarta's air
IQAir's report in 2021, puts Indonesia as the most polluted country in the world with an average PM2.5 of 34.3 micrograms/m³ or two times higher than the standard air quality guidelines set by the World Health Organization (WHO). As an illustration, a healthy PM2.5 index allowed by WHO is 15 micrograms/m3.
A Vital Strategis' report finds vehicle exhaust, coal burning, open burning, construction, road dust, and suspended soil particles are the main sources of air pollution in Jakarta.
Asep Kuswanto, Head of the Jakarta Environment Office, said that the increase of motor vehicles has contributed to Jakarta's air pollution. As sales increase, PM2.5 pollution also increases, both from exhaust emissions, as well as from air pollution from other components of the motor vehicle.
While research on motor vehicle pollution still mostly focused on exhaust emissions, the Air Quality Expert Group (AQEG) of the British Government, has discovered other sources of vehicle pollution, specifically particles from brake, tire, and road surface wear, and road dust resuspension caused by vehicle movement.

Based on AQEG's study, Emission Analytics tested new fully inflated tires for wear. The test results show that pollution from tire particles can be even 1,000 times worse than car exhaust emissions. In the test, tire particles weighing 5.8 grams per kilometer were released when the car was running. This is well above the regulated exhaust emission limit of 4.5 milligrams per kilometer.
Data from the United Kingdom National Atmospheric Emissions Inventory shows that brake wear, tire wear and road surface wear particles account for 60 percent of PM2.5 and 73 percent of PM10 (by mass). 
But the Center for Environmental Quality Instrumentation Standardization (PSIKLH) in a study conducted in 2018-2020, found that the content of tire (Zinc/Zn) and brake pad (Copper/Cu) particles in the dust fell in Serpong, South Tangerang, on the outskirts of Jakarta. 
Non-exhaust particle test
To prove the tire and brake particles pollution in Jakarta's air, KONTAN tested samples of dust sticking to the ceiling of bus stops located in densely populated areas, i.e., Tanah Abang, Central Jakarta, and Pasar Minggu, South Jakarta.
During sample collection, traffic was very heavy with hundreds, if not thousands, or tens of thousands of tires rolling on the hot asphalt. The resulting tire particles plus particles from the brake pad floated into the air. 
Some of these particles fall on the road, get blown away into the air and get inhaled by people, and some others get trapped in surrounding objects. Most visible to the naked eye is the layer of black soot on the ceiling of public bus stops.
Dense black dust fell off when brushed. After an hour of collecting samples, less than half a kilogram of this dust was obtained and was sent to Petrolab Services' laboratory for examination on Friday (11/23). On Tuesday (12/6), the results showed that the dust samples contained Copper (Cu) and Zinc (Zn) (see table). 
All vehicles, regardless of their energy source, generate pollution from tire and brake particles. Whether tires from gas-powered cars or electric-powered cars, both produce tire particles. Likewise with copper particles produced from braking, both types of cars contribute to copper particles in Jakarta's air.
Unfortunately, Indonesia has yet to conduct specific research on the impact of tire and brake particle pollution on health, Kuswanto said.
Due to the dynamic nature of air pollution, Haryanto believes discussions over it can be very challenging, since pollutants can move very rapidly, and can even blow away within seconds.
As a result, many studies are focused on calculating exhaust emissions. "The chemical compound in pollution are difficult to separate, not many people have  an interest in researching them," said Haryanto.
Calculating tire pollution must also take into account economies of scale in developing tire innovations. An innovation that can only result in a small impact is inefficient for entrepreneurs since it does not compensate for the investment.
"If we want to manufacture environmentally friendly tires, how much will the production cost? be" said Haryanto.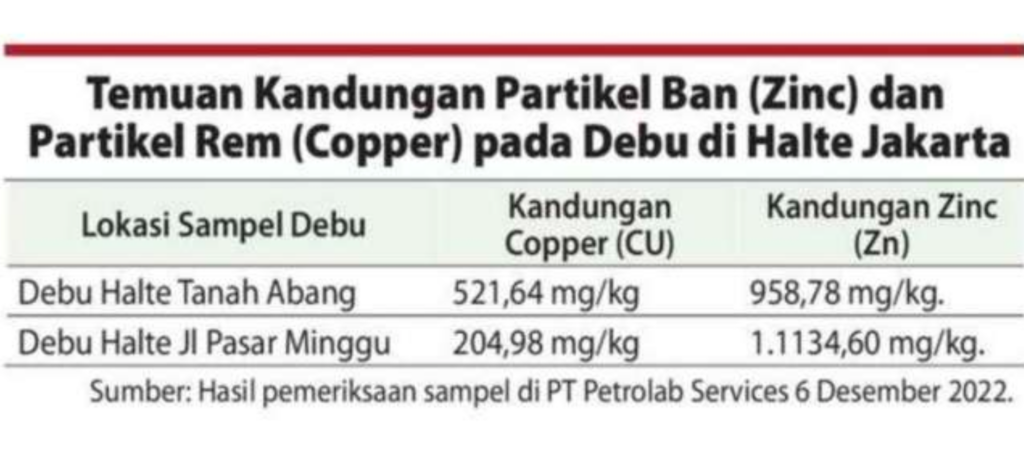 Environmentally friendly tires
The tire industry has responded to the tire particles findings. Aziz Pane, Chairman of the Indonesian Rubber Council, said since 2011, the tire industry no longer uses minarex as the raw material which contains hydrocarbons, naphthenic and paraffinic hydrocarbons, causing more pollution to the environment.
Pane explains, the content of minarex is harmful to the environment as it is carcinogenic. The use of such material is prohibited in several European export destination countries. The European Union of Tires closely monitors the use of minarex.
As an alternative, the tire industry in Indonesia imports sulfur fluoride exchange (sufex) as raw material. This material is made using the desulfurization technology, considered to be more environmentally friendly. 
"The raw material aims to reduce pollution arising from tire friction on the road," Pane told KONTAN, Monday (12/26).
KONTAN's search results show that there are tire companies, such as Goodyear, that have begun to substitute some of their raw material with products claimed to be more environmentally friendly.
For example, soybean oil to reduce the use of petroleum, silica ash from rice husks, and the use of bio isoprene, a synthetic rubber for tires manufactured using biomass.
Michelin, on the other hand, plans to manufacture environmentally friendly tires using more natural rubber. Currently, the tires manufactured by Michelin contain 46 percent environmentally friendly materials such as recycled carbon black, sunflower oil and bio-source resins, silica from rice husks, and even recycled steel. 
Tires made specifically for buses already contain 58 percent environmentally friendly materials. By 2050, Michelin aims to manufacture 100 percent sustainable tires.
However, Haryanto says replacing tire materials does not translate to significant impact on air pollution. There needs to solutions that have greater leverage in terms of pollution reduction, such as the use of more environmentally friendly fuel and reducing the number of motorized vehicles.
Haryanto also suggests that the government develop more massive renewable energy generators to ensure greener energy source for electric vehicles.
But for Agnes, she will remain loyal to her profession as online motorcycle-taxi driver, even if that means having to endure the health risks. Despite her educational background and age, the profession has provided her means to provide for her children's and parents' needs.
Agnes hopes the government will soon provide a subsidy for electric vehicles, which will allow her to navigate the roads of the capital with less concern about her health condition.
This story was produced with support from Internews' Earth Journalism Network through the Clean Air Catalyst (Catalyst), a flagship program launched by the U.S. Agency for International Development (USAID) and led by a global partnership of organizations including World Resources Institute and Environmental Defense Fund and Internews. This story was first published in KONTAN (Bahasa Indonesia) on 1 January 2023.
*Banner image: An illustration of polluting vehicles and pedestrians by studio4rt via Freepik.