Pekalongan City is named one of nine filariasis endemic districts/cities in Central Java. Citizen compliance and environmental factors play a major role in preventing the spread of this disease.
Haryanto (67, pseudonym), from Jenggot Village, Pekalongan City, Central Java, Indonesia, did not expect to be infected with lymphatic filariasis. Haryanto never felt any symptoms of the disease. He goes to Kuripan Kertoharjo Village to work in his rice fields every day.
Haryanto, his wife, daughter and other residents had to undergo a finger blood test carried out by the Jenggot Village Community Health Center in 2019. The test found the presence of filarial worms (microfilariae) in Haryanto's blood. Meanwhile, the blood test result for his wife and daughter were negative.
"The health officer said that I had filariasis symptoms. The officer said, in order to prevent the severe leg swelling, it can be treated for ten days. 'Sir, don't you want to take the drugs for treatment?", he repeated what the health officer said to him. "I'm okay with it because it's just medication," Haryanto said.
Haryanto routinely took medicine for ten days given by the community health center staff. The drugs treatments are diethylcarbamazine citrate (DEC). The health worker came to his house to deliver the drugs every day. "I always take medicine given by the health worker, even though I don't feel any symptoms because I don't want to have severe leg swelling," he said.
Meanwhile, Rochmat (57, pseudonym) has never taken filariasis prevention drugs. In fact, based on the results of the finger blood test carried out on him, his blood also contained microfilariae.
While preparing beverages he was selling to earn his daily income, Rochmat said that the health officer from the Jenggot Village Community Health Center officers came to his house several times to deliver his drugs for treatment. However, he always refused to take the drugs given, because he did not feel any pain or symptoms of the disease.
"I don't feel sick. How come they told me to take the drugs. I do not want to. I always maintain my health by drinking herbal medicine every day. I bought the ingredients in the market, curcuma, and ginger, " he said.
Dian Hatmitasari, Head of Jenggot Village Community Health Center said that treatment for filariasis patients aims to prevent the infection from getting worse and avoid complications of filariasis. The drugs can kill the filarial worms that cause elephantiasis, and the swelling of the lymph nodes will dissipate. Therefore, it is important to take the filariasis medication.
Lymphatic filariasis, commonly known as elephantiasis, is one of the neglected tropical diseases in Indonesia, apart from leprosy, schistosomiasis, and visceral leishmaniasis (a disease caused by infection with leishmania parasites).
Based on the Regulation of the Minister of Health of the Republic of Indonesia Number 94 of 2014 concerning Filariasis Treatment, filariasis is a chronic infectious disease caused by filarial worms that infect the lymph nodes. Filariasis may damage the lymphatic system, causing a swelling of the hands, feet, mammary gland, and scrotum. Therefore, causing a lifelong disability.
Filariasis is also described as a vector-borne zoonotic disease. A zoonosis is any disease or infection that is naturally transmissible from vertebrate animals to humans. Zoonotic pathogens maybe bacterial, viral or parasitic, or may involve unconventional agents and can spread to humans through direct contact or through food, water or the environment.
Lymphatic filariasis is caused by infection with parasites classified as nematodes (roundworms) of the family Filariodidea. The World Health Organization (WHO) states that there are three types of filarial worms cause filariasis: Wuchereria bancrofti, Brugia malayi, and Brugia timori. Infection occurs when filarial parasites are transmitted to humans through mosquitoes, which act as the vector in this case.
An epidemiologist from the University of Indonesia, Tri Yunis Miko Wahyono, explained all types of mosquitoes can transmit filariasis, including aedes, anopheles, culex, mansonia, and armigeres.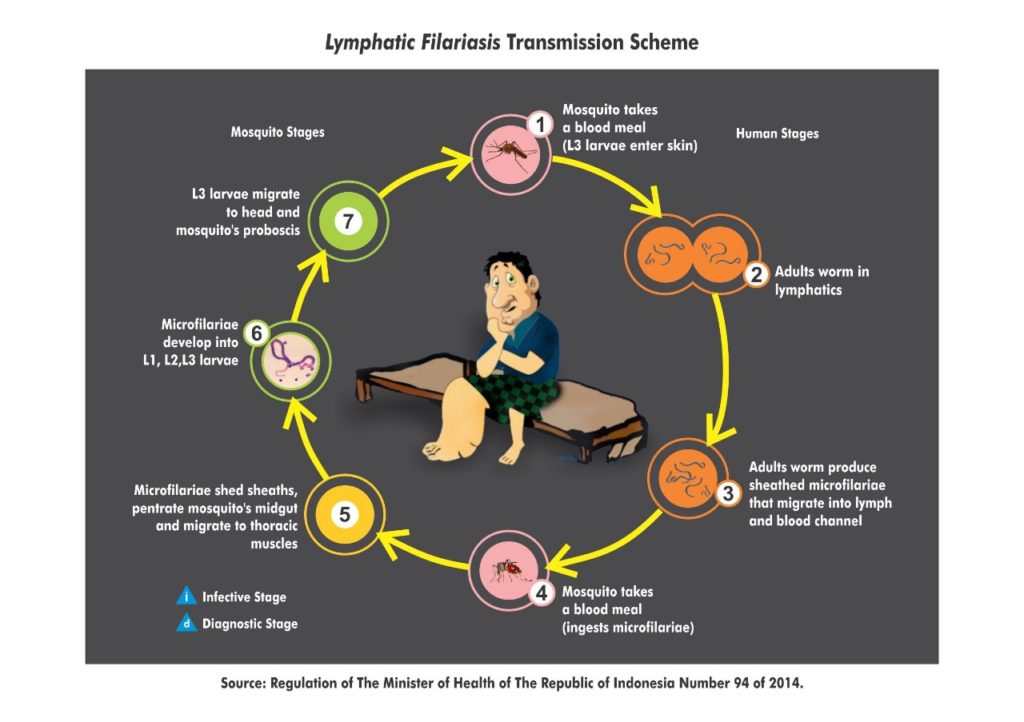 There are 23 species of mosquitoes from five genera that are vectors of filariasis. Places that can be a breeding ground for filariasis-transmitting mosquitoes include shady places, such as bushes and indoors in dark places. In addition, dirty puddles can be another option. "There are also a lot of anopheles and aedes mosquitoes in the coastal area," Tri Yunis continued.
A person can be infected with filariasis if they are bitten by an infective mosquito, which is a mosquito that contains stage three (L3) larvae. Mosquitoes are infected with microfilariae by ingesting blood when biting an infected host.
Several types of animals can act as sources of filariasis transmission (reservoir animals). Of all the filarial worm species that infect humans in Indonesia, only Brugia malayi sub-periodic nocturnal and non-periodic types are also found in langurs (Presbytis cristatus), monkeys (Macaca fascicularis) and cats (Felis catus).
Microfilariae mature into infective larvae within the mosquito. When infected mosquitoes bite people, mature parasite larvae are deposited on the skin from where they can enter the body. The larvae then migrate to the lymphatic vessels where they develop into adult worms, thus continuing a cycle of transmission.
Elephantiasis can cause clinical symptoms, appear without clinical symptoms, or appear as one or more acute manifestations, such as fever, swelling of the legs or arms, tropical pulmonary eosinophilia syndrome, and lymphangitis. Most infections are asymptomatic and show no external signs of infection.
Read also: Climate change potentially increases the risk and spread of lymphatic filariasis
Filariasis endemic
Based on data from the Ministry of Health, there are 236 filariasis endemic regencies/cities spread across 28 provinces in Indonesia. Since 2010, cases of filariasis in Indonesia have continued to increase. A significant increase occurred in 2014 with the number of cases reaching 14,932 cases. After that, in the last five years, from 2014 – 2018, the number of cases of elephantiasis has decreased, from 14,932 to 10,681 in 2018.
Pekalongan City is one of nine filariasis endemic regencies/cities in Central Java Province. Since it was discovered from 2004 to 2020, there were 455 clinical cases and 41 chronic cases of filariasis.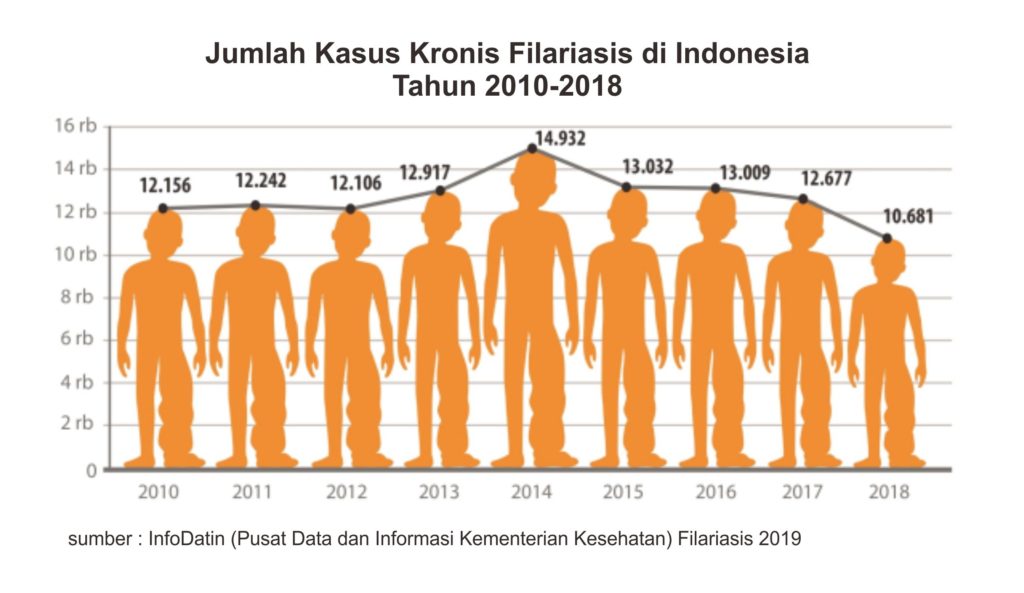 Pekalongan city government implements the mass drugs administration (MDA) to stop filariasis transmission. The mass drugs administration for filariasis is a simultaneous administration of drugs to all target populations (aged 2 years to 70 years) in filariasis endemic areas. According to a regulation of the Minister of Health concerning the Prevention of Filariasis, regencies/cities are declared endemic for filariasis if the microfilariae rate in the area is 1 % or more.
The mass drugs administration for filariasis aims to interrupt transmission by sending a combination of drugs for the entire population at risk of developing filariasis. Furthermore, it's to manage morbidity and prevent disability.
In the MDA for Filariasis Guidebook, it is explained that concurrent administration of mass drugs can kill all microfilariae in the blood of every resident at the same time. Besides, it can prevent macrofilariae (adult filarial worms) from producing new microfilariae, so that the chain of transmission of filariasis can be broken.
Slamet Budiyanto, The Head of the Pekalongan City Health Office said that The Pekalongan City had implemented MDA for filariasis in the last seven years, from 2011 to 2015. It was implemented again in 2017 and 2018.
However, MDA for filariasis in the last seven years is considered a failure because based on the WHO's evaluation and the Ministry of Health of the Republic of Indonesia, the microfilaria rate in Pekalongan City is still above 1 %. Thus, Pekalongan City remains considered an endemic area for filariasis. "Pekalongan City must repeat the implementation of MDA for filariasis in two consecutive years, from 2021 to 2022," he said.
The Ministry of Health conducted a finger blood survey of 381 residents of Kertoharjo, Kuripan Kertoharjo Sub-district in 2014. This survey aimed to detect filarial parasites in residents. "The microfilariae rate reached 9.71 %. Of the 381 people surveyed, 37 were positive for microfilariae," he said.
A year later, another finger blood survey was conducted in four sub-districts. Two sub-districts still showed microfilariae rates of more than 1%. In Kuripan Kertoharjo Sub-district, of the 210 people surveyed, four were positive for microfilariae (1.9%), and in Jenggot Sub-district, out of 300 people, three of them were positive for microfilariae (1%).
Pekalongan City had to repeat the MDA for Filariasis for two years, particularly in 2017 and 2018, because there were still endemic sub-districts within the area. However, the repetition of MDA for Filariasis for two years still could not eradicate filariasis. Pekalongan City is still in the filariasis endemic category because, based on finger blood surveys in a number of sub-districts in 2018, the microfilariae rate was still more than 1%.
In Kuripan Kertoharjo Sub-district, out of 49 people who were surveyed with finger blood, seven of them were positive for microfilariae (14.28%). In Jenggot Sub-district, there were five positive microfilariae out of 315 people surveyed (1.58%). Meanwhile, in Sapuro Kebulen Sub-district, out of 332 people surveyed, one person was positive for filaria parasites (0.3%). Because there are still urban villages where the microfilariae rate is above 1%, Pekalongan City must repeat the mass treatment for two years, particularly in 2021 and 2022.
In 2021, as many as 201,253 residents were targeted for MDA for filariasis. People aged 5 years-70 years received three types of drugs, ivermectin, DEC and albendazole. Meanwhile, toddlers (aged 2 years-4 years) received DEC and albendazole. The budget allocated for the implementation of MDA in 2021 is IDR 861,607 million.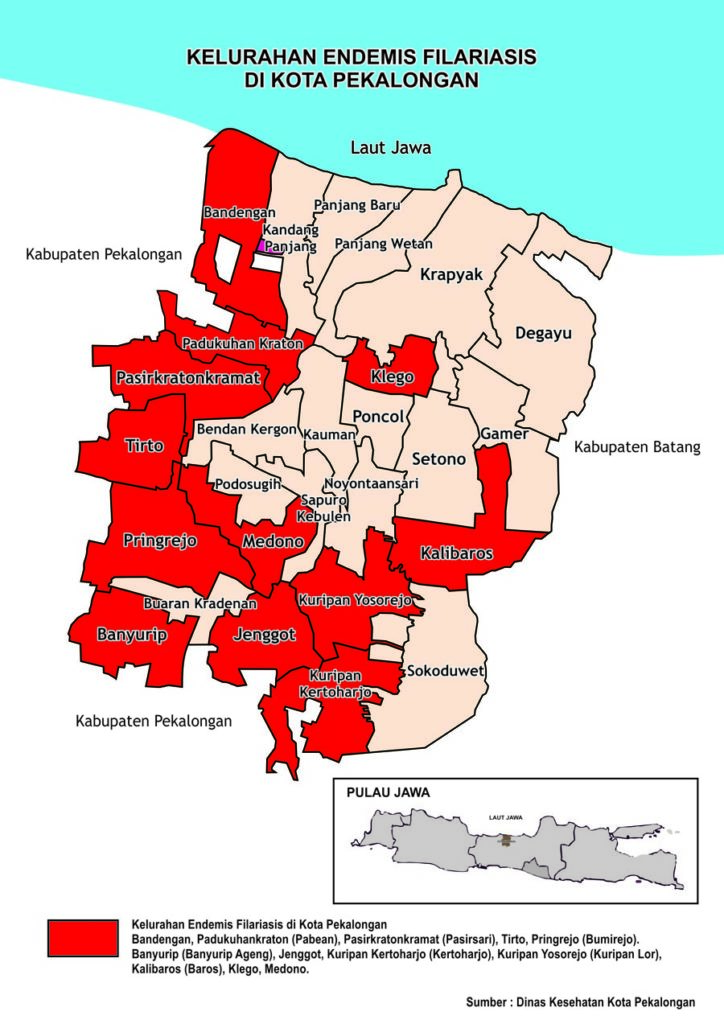 Citizen compliance
The effectiveness of MDA in reducing the prevalence of microfilariae in the community is directly related to treatment coverage. According to Budiyanto, during the seven years of the implementation of MDA for filariasis, the coverage of residents taking medication was still low, only 60 % to 63 %. Meanwhile, based on the Regulation of the Minister of Health of the Republic of Indonesia Number 94 of 2014, the coverage of taking medication is at least 65 % of the target population.
Some residents who live in filariasis endemic villages say that they comply with taking medication to prevent transmission. "I always take the medicine that is administered to me. I hope I don't contract elephantiasis," said Umi Hani (48), a resident of Kuripan Kertoharjo Urban Village, when she visited the Healthcare center of the MDA for filariasis at the Melati IV Kertoharjo Integrated Healthcare Center, on Friday, November 12, last year.
Siti Solikhah (40), a residents of Kuripan Kertoharjo said that she and her children always take filariasis prevention drugs during the MDA for Filariasis. "I always take the medicine given because the environment here is endemic," she said.
Casmurah (55) also made a similar statements. She also always takes medication during the MDA for Filariasis. "This disease can make the legs grow like elephant feet. I don't want my family to be like that. To prevent it, my family and I always take the medicine to avoid this disease," she explained.
Solikhah and Casmurah received information about filariasis from the health cadre in Kuripan Kertoharjo. According to Casmurah, information about filariasis is usually delivered by the health cadre at regular community gatherings and social gatherings that are held once a month. Then, before the implementation of MDA for Filariasis, health cadres and filariasis cadres will visit residents' homes for data collection and socialization.
The health cadres make various efforts to get the residents to take the distributed drugs. Pekalongan city consisted of 340 Community Units (RW). There are five health cadres in each Community Unit.
Musarotun, a health cadre of Kuripan Kertoharjo Village, said that she and the other health cadres in RW 09 of Kuripan Kertoharjo Village always provide education and disseminate information about filariasis to the residents.
"We visit the residents' homes to collect the data. We also disseminate information to the residents about filariasis and its preventive measures, one of which is by taking medicine. We also explain the side effects of drugs," she said. Reactions arising from treatment include nausea, headache, fever, drowsiness, dizziness, weakness, decreased appetite.
Tri Yunis stated that the only way to break the chain of filariasis transmission is to take filariasis prevention drugs. "By taking the medicine three times, parasites in the blood of the people will be lost. If they don't take the medicine, they will carry the parasite for life and will pass it on to other people when a mosquito bites them, and infect other human beings," he explained.
But still, not everyone is convinced. Like Rochmat, Slamet, a resident of Kuripan Kertoharjo Village is also wary of taking the filariasis drugs. "I'm not used to taking medicine. Besides, I'm not sick. Even if I get sick, I drink the traditional herbal drink," said Slamet.
Anies, Professor of Public Health Sciences, Faculty of Medicine, University of Diponegoro Semarang, said that the low level of compliance of residents in taking filariasis prevention drugs was due to the ignorance and indifference of the residents to this disease.
"Filariasis is not an acute disease that can be perceived immediately. So, people are not afraid and don't care. It is in contrast to Covid-19 which can be perceived immediately. Filariasis is chronic, so that unpredictably, the legs are like elephant feet," he explained.
According to him, it is necessary to carry out continuous socialization and advocacy among residents who do not understand and residents who understand it, but do not care. Socialization is not only carried out by health workers, but can involve community leaders and religious leaders. "For instance, socialization can be carried out through the majelis taklim or religious lectures," he suggests.
For her part, said Izzati, a health cadre of Jenggot Village, makes it a point to visit the Qur'an recital group in her village. "I disseminate information and distribute the drugs to be taken together by the residents. They are (more) willing to take the drugs if they do it together," she said.
Environmental conditions determine the distribution of filariasis cases and the chain of transmission. Usually the endemic areas of Brugia malayi are areas with swamp forest, along rivers or other bodies of water overgrown with aquatic plants. Meanwhile, the endemic areas of Wuchereria bancrofti urban type are densely populated informal settlements (slum areas) that have lots of dirty water as a habitat for the vector, Culex quinquefasciatus mosquito.
So, to overcome this disease requires strong multi-sectoral collaboration with a One Health approach from various related fields such as animal health, public health and environmental health. One health is a communication, collaborative, multi-sectoral and transdisciplinary coordination approach with the aim of achieving optimal health outcomes by recognizing the interconnections between humans, animals, plants, and the environment together.
Anies added that transmission can be prevented by avoiding trigger factors, such as mosquitoes bites by keeping the environment clean. It can also be done by cleaning puddles or pots that have the potential to become mosquito nests.
"It can be done by wearing covered clothing when carrying out activities in endemic areas or outdoors that are at risk of being exposed to mosquito bites. There is nothing wrong with applying mosquito repellent lotion regularly when doing outdoor activities," added Anis.
Health cadre also make sure to share this guidance on prevention in addition to information about the dangers of filariasis. "To prevent transmission, apart from taking medicine, we must also clean the house and the surrounding environment regularly. Cans outside the house should not be waterlogged. Then, the bathroom tub must be drained frequently so that there are no mosquito larvae. I drain the bathroom tub twice a week," Casmurah said, sharing what she has learned from their monthy visit.
This story was first published in Indonesian by Suara Merdeka on 3 February 2022. This story was produced with support from Internews' Earth Journalism Network.