As their habitat continues to shrink due to deforestation, the indigenous Orang Rimba group becomes more vulnerable, including to threat of the zoonotic malaria. Local authority is looking at One Health as a future solution to prevent outbreak.
Selambai, a middle-aged man, was distraught when he saw his son, Ngambur (4) who suddenly had a high fever and convulsions. Ngambur lay in the sudong–a simple, typical dwelling of Indigenous people of Orang Rimba made of wood with a tarpaulin roof –his condition increasingly chronic.
The silent night was suddenly a rush. Relatives Selambai, another Orang Rimba who inhabited the area around Bukit Dua Belas National Park (TNBD) came to visit.
They approached Ngambur. The boy was still lying weak on the floor of the hut.
His body was thin, and his eyes continued to gaze upwards. Ngambur was convulsing. He was showing symptoms of parasitism with a very high fever and high body temperature, his face was pale, and he had a swollen spleen.
Confused and frantic, Selambai hurried out of the forest towards the field office of the Indonesian Conservation Community Warsi (KKI Warsi), a non-profit organization that focuses on conservation issues and community empowerment in and around the forest.
Luckily, there Selambai met Rusli, a health facilitator from KKI Warsi. Without hesitation, the two immediately returned to the sudong, where the little boy was lying.
When they arrived, Rusli immediately attempted first aid. He checked Ngambur's temperature. The four-year-old's body temperature had reached 40 degrees Celsius.
But because they had insufficient medical equipment, Rusli and Selambai decided to take Ngambur to the community health center (puskesmas) in Pematang Kabau Village, Air Hitam District, Sarolangun Regency; about 10 kilometers away.
Their motorcycle lights shone in the silence and darkness of the jungle. They crossed trails in the forest, through steep climbs and descents towards the village.
Fortunately, in no less than 24 hours, Ngambur received intensive care to treat his high fever. During the two days he was treated at the health center, he received blood transfusions and an intravenous drip. Health workers also performed blood tests.
"I was told by the nurse at the health center, it was malaria infection," Selambai told Liputan6.com when met at his residence at the end of Bukit Suban Village, a forest buffer village area of the Bukit Duabelas National Park (TNBD) Sarolangun, Jambi, on Wednesday 20 October 2021.
In the knowledge system of the Orang Rimba, they do not recognize malaria. To Selambai's knowledge, Orang Rimba described the fever symptoms like malaria as domom kuro or turtle fever.
"A patient's stomach swells like a turtle, so they (Orang Rimba) say that malaria is domom kuro (tortoise fever)," said Rusli.
***
Orang Rimba are indigenous communities in Jambi Province who reside in forest areas. They live in groups with each other, and each group is led by a tumenggung (customary leader). The Orang Rimba indigenous peoples mostly believe in gods and ancestral spirits.
Orang Rimba still carry out traditional practices, such as hunting in the forest and gathering tubers, herbs and fruits. The best-known tradition of this community is melangun, a tradition of moving to faraway places to forget the sorrow of losing their relatives.
According to the results of a recent survey conducted by KKI Warsi, the total population of the Orang Rimba is 6,000 people. The numbers are spread over several districts in the Jambi Province. Their existence is constantly threatened by large-scale corporations that have exploited forests for mining, oil palm plantations, and industrial monoculture plantations.
Malaria is a scourge that is difficult for Orang Rimba communities to avoid.
Reminiscing about that chaotic night back in 2019, Selambai is still in a state of turmoil. Because in the last decade since the forest started to disappear, diseases such as malaria have gotten a grip on the Orang Rimba, especially children who are more vulnerable.
Their poor living conditions and nomadic culture of living in settlements without walls in a shrinking forest make them even more vulnerable to disease.
In 2015, KKI Warsi and the Eijkman Institute for Molecular Biology, part of the Indonesian Research Center (BRIN) based in Jakarta, conducted a study on the health of the Orang Rimba. In this study, researchers took blood samples from Orang Rimba who lived in the TNBD buffer zone that sprawled across three districts: Sarolangun, Tebo, and Batanghari.
The study revealed that 24.26 percent of the blood samples were infected by malaria. The prevalence of malaria among the Orang Rimba communities is high compared to malaria prevalence among the public in Jambi which is only 0,84 percent in 2020, according to Jambi Health Office data.
Cases of zoonotic malaria found in Orang Rimba group
As Jambi drums up efforts to eliminate malaria by 2030, zoonotic spillover, or diseases that are transmitted from animal to human populations, is becoming a new challenge for public health officials.
Currently there are five types of malaria parasites that infect humans: Plasmodium falciparum, Plasmodium vivax, Plasmodium ovale, Plasmodium malariae, and Plasmodium knowlesi.
Only Plasmodium knowlesi malaria meets the criteria of zoonoses based on definitions by the U.S. Centers for Disease Control (US CDC) and the World Health Organization (WHO).
The US CDC defines Plasmodium knowlesi malaria as a type of malaria parasite that is transmitted from long-tailed macaque primates (Macaca fascicularis) through mosquitoes to humans, thus implicating vertebrate animals in the chain of transmission.
Currently, cases of Plasmodium knowlesi malaria have been recorded in Southeast Asia, especially Malaysia, Thailand, Myanmar, Vietnam, Cambodia, the Philippines, Brunei, Singapore, and Indonesia.
The Ministry of Health through its research and development journal reported that several regions in Indonesia have also found cases of zoonotic malaria of Plasmodium knowlesi type, including in Kalimantan and Sumatra. The malaria parasite Plasmodium knowlesi that usually infects monkeys has been found to infect Indigenous groups of Orang Rimba.
The Jambi Health Office claims there hasn't been any death from malaria since 2017, but there's an increase in reported cases of Plasmodium knowlesi, or zoonotic malaria.
The Jambi Health Office, as the health authority in the province, has been studying the malaria outbreak in malaria-endemic areas particularly where Orang Rimba indigenous communities reside. The study, conducted in 2018, involved a mass blood survey (MBS) program and an examination of parasites through polymerase chain examination (PCR).
Eva Susanti, Head of Disease Prevention and Control said the study became their baseline data in devising strategies for control and acceleration of malaria elimination.
Malaria control, said Susanti, consists of prevention, discovery and a quick and precise treatment of cases. In addition, surveillance of the epidemiology of malaria was also carried out.
"We conducted epidemiological investigations and observation on focus areas. We are also working on receptive mapping and some research on malaria in special populations (Orang Rimba)," said Susanti.
In the receptive mapping, Susanti said, a new variant of long-tailed monkey malaria zoonoses or Plasmodium knowlesi was found infecting Orang Rimba in Tebo District or precisely in the Muara Tabir subdistrict, northwest of the Bukit Duabelas National Park (TNBD).
"There are findings of 6 cases of Plasmodium knowlesi in Orang Rimba community within the coverage of the Bangu Seranten health center," Susanti said when interviewed by Liputan6.com in her office on Monday 8 November 2021.
The cases of zoonotic malaria were found among the Orang Rimba community who lived in the forest buffer zone of Bukit Dua Belas National Park. Since the forest that has provided their livelihood is decreasing, Orang Rimba communities were pushed farther out towards the buffer zone.
Susanti was reluctant to specify which community of the Orang Rimba was confirmed positive for Plasmodium knowlesi type malaria, but their findings were reported to the Ministry of Health at the end of 2019.
The symptoms suffered by people infected by P. knowlesi are almost the same as malaria in general, said Susanti. A fever that begins with chills.
"During that time, we immediately administer antimalarial drugs, while we continue further research on this malaria (Plasmodium knowlesi)," Susanti added.
A journal article by I Gede Yasa Asmara that was published in 2018 by the Department of Internal Medicine of the University of Indonesia explains that in general, the life cycle of Plasmodium knowlesi is not too different from another plasmodium. But P. knowlesi has the shortest erythrocyte lifecycle (production, maturity and destruction): just24 hours.
"Because its life cycle is short, the number of parasites in the blood can rapidly increase, so P. knowlesi infection has the potential to become a severe disease," Asmara wrote in his research paper, titled "Plasmodium knowlesi Malaria Infection in Humans".
Eva Susanti pointed out that this is not the first case of Plasmodium knowlesi type malaria in Jambi and it is not only found in the Orang Rimba.
Similar cases were also found in rural communities in Masurai valley in Merangin District, which borders the Kerinci Seblat National Park (TNKS) area and is far from the Orang Rimba community.
"In Merangin there were 5 cases of Plasmodium knowlesi found, also part of the 2018 study," Susanti said.
Three years earlier, in 2015, the Health Ministry conducted a study and found a case of Plasmodium knowlesi in humans in Bungo District, after there was an indication of zoonotic malaria marked by the presence of long-tailed or pig-tailed monkeys.
From the study, one of 34 human malaria cases was P. knowlesi which was detected through a PCR test; a finding not previously reported in Jambi. Of the 38 monkeys positive for zoonotic malaria, six (15.8 percent) were infected with P. knowlesi either single-handedly (mono-infection) or mixed. Five of six (83.3 percent) of P. knowlesi-infected monkeys were long-tailed monkeys.
"From this study, it can be concluded that in addition to one new case of P. knowlesi in humans, there were also six cases of P. knowlesi in monkeys in Jambi. The first P.knowlesi case in humans was obtained locally (indigenous cases) and this is the first case reported from the province," Ervi Salwati et al wrote in an Indonesian Medical Biotech journal published in 2019.
Deforestation and potential zoonoses
The Orang Rimba community has lost much of the territory they roam search of food sources. In fact, the most noticeable impact of massive deforestation is the potential to bring new zoonotic pathogens.
Data by KKI Warsi shows that deforestation in Jambi is becoming unstoppable. In 2015, the area of forest cover was still 1.1 million hectares. A year later it shrank to 970,434 hectares.
Then in 2017-2018, the area of the Jambi Forest further decreased to 920,730 hectares. In 2019, the Jambi Forest area stood at 900,713 hectares.
In 2020 the primary forest area in Jambi continues to shrink. Jambi's forest currently stands at 882,272 hectares, 17 percent of the total area of the province.
According to data from KKI Warsi, in 2020, 318,851 hectares of the former forest plantation rights area (HPH) in the Orang Rimba roaming area has been converted into industrial concession permits (HTI) and oil palm plantations.
Deforestation and increased risk of zoonotic diseases are closely related. A paper published in the scientific journal Frontier in Veterinary Science reveals that there is a link between deforestation and the presence of zoonotic (diseases transmitted by animals to humans) and vector-borne diseases (diseases transmitted through animal vectors/hosts to humans), as animal populations and humans are brought into closer contact.
The study was led by Director of the French National Center for Scientific Research Serge Morand. The study, entitled Outbreaks of Vector Infectious Diseases and Zoonoses Associated with Changes in Forest Cover and Oil Palm Expansion on a Global Scale, indicates that deforestation is triggering an increase in viruses such as COVID-19 and also facilitating outbreaks of vector-borne diseases such as malaria.
"There's a lot of Cigak here, so many that they enter the Sudong at times," said Tungganai Basemen, an elder of Orang Rimba in Tumenggung Ngrip community that lives on the edge of Bukit Dua Belas National Park.
Cigak is the local name for the long-tailed monkey. Contact between Orang Rimba and the primates has been intensifying in the last five years.
"As the rimbo (forest) has diminished, many monkeys are approaching our homes," Basemen said. The middle-aged man recalled that there was nothing he could do when hordes of monkeys approached his hut.
Although he is a layman, Basemen is sure that deforestation is a factor that leads to the increasing encounters between the long-tailed monkeys and humans.
The elder's belief isn't far-fetched. KKI Warsi Biodiversity Specialist Zola Anjelina explained that the shrinking of biodiversity areas has an impact on carnivorous animals that are also shrinking in numbers and this in turn causes the population of primates such as monkeys to increase.
"Deforestation affects the food chain, because predatory animals no longer exist in the area, leaving the monkey population to grow," Zola said.
Taufik Purna Nugraha, Zoological Researcher from the Indonesian Institute of Sciences (LIPI) agreed that the fragmentation of fauna habitat due to deforestation and land conversion has increased the potential for the spread of zoonoses or infectious diseases from animals to humans.
"Animal and human encounters are becoming more intense because of the opening of the forest, so there is a potential for reservoir jumps of animals with disease to move to humans carried by vectors," said Taufik.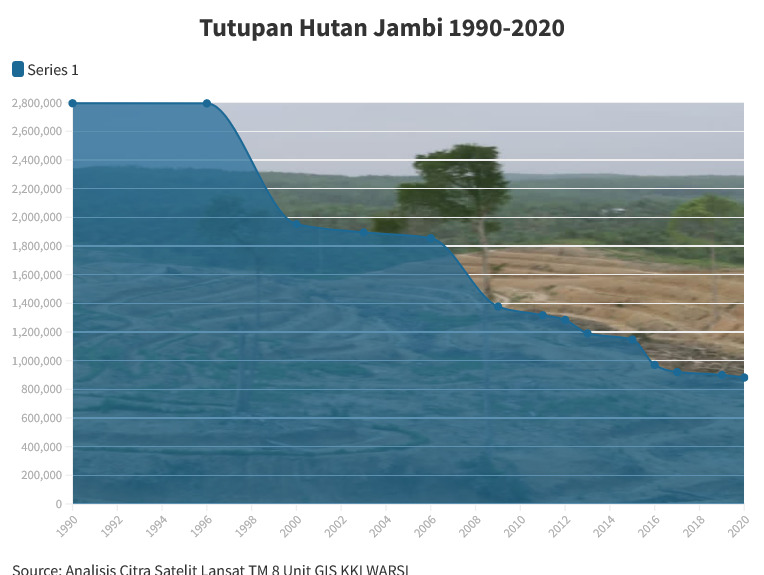 Reducing the anopheles mosquito population
In November 2020, a team of researchers from the Eijkman Institute of Molecular Biology examined mosquito populations in the Orang Rimba settlement in the Makekal Ilir, Tebo District. The study of malaria vector mosquitoes (Anopheles) was carried out using a double-installed mosquito net.
The process of trapping mosquitoes was carried out with Orang Rimba starting at 19.00 WIB. Every hour, the team checked the mosquito nets guarded by the Orang Rimba. When the mosquito enters the outer mosquito net, it is then caught using an aspirator vacuum cleaner.
A few hours later, researchers found anopheles mosquitoes. A researcher from Eijkman, Dendi Hadi Permana said this type of mosquito can fly as far as two kilometers.
"We were able to determine the mosquito type, Anopheles mosquito appears at 20.00 onwards. The structure of this mosquito tends to be slenderer," Dendi said when interviewed by Liputan6.com on Wednesday, November 18, 2020. Dendi then showed two Anopheles mosquitoes that had been captured.
The mosquito study (entomological survey) was conducted in 10 Orang Rimba indigenous clusters living on the edge of the forest of Bukit Dua Belas National Park (TNBD).
The study used three methods for its capture: double nets, light traps, and mosquitoes that landed on the human body. The researchers team captured a total of 1,699 mosquitoes of the Anopheles genus.
Din Syafruddin, a senior researcher from Eijkman, a research institute, said malaria infection among the Orang Rimba communities tends to be transmitted outside the home. This is due to their semi-nomadic way of life, making them more exposed to mosquito bites.
"If we do not make extra efforts, the Anak Dalam Tribe (SAD) or the Orang Rimba can never be free from malaria," said Syafruddin.
"If we distribute mosquito nets they will refuse. So, the treatment needs a special approach. We go in with caution because their culture does not recognize mosquito nets. What we are now thinking about is how to reduce the mosquito population," Syafruddin added.
One other strategy Eijkman is working on to help protect Orang Rimba from anopheles mosquitoes is the development of mosquito repellent. The A4-sized mosquito repellent has been infused with a chemical that chases away insects.
This mosquito repellent is hung under the roof of the Orang Rimba hut where it will omit a chemical substance that chases away the mosquitos.
"The smell can repel mosquitoes, but humans will not be able to smell it. Because the evaporation of chemical compounds can keep mosquitoes away," he said.
This mosquito repellent was developed in collaboration with several international institutions, one of which is the University of Notre Dame from the United States. After testing for six months, the use of the repellent was found to have reduced the anopheles mosquito population by about 30 percent.
"Because this is still a clinical trial, this repellent has not been marketed. But soon, it can be given to the Orang Rimba. This repellent can be used while moving around and is easy to carry everywhere, "he said.
Compared to other mosquito repellents on the market, this repellent, which is still in the clinical trial stage, is considered very suitable for repelling mosquitoes and has the advantage of being able to be carried anywhere, without having to be burned or sprayed. In addition, it does not have an odor.
However, Syafruddin warns that deforestation and land conversion into plantations will continue to affect the population and movements of disease-carrying mosquitoes.
"Many diseases naturally circulated only among animals in the forest. But because of deforestation, these diseases are now closer to humans," said Syafruddin.
One Health, a future solution
According to the U.S. CDC, of the 1,407 pathogens that infect humans, 58 percent come from animals, a quarter of which can be a source of epidemic or pandemic transmission.
In addition, based on the description of the Coordinating Ministry for Human Development and Culture (Kemenko-PMK) the world is currently experiencing an increase in the threat of new infectious diseases known as Emerging Infectious Diseases (EID) which are 70 percent zoonotic – transmitted from animals to humans.
The World Health Organization's One Health approach recognizes that public health, environmental health and animal health are all closely interrelated and cannot be improved in isolation.
Synergy under this concept would lead to the acceleration of biomedical research discoveries, enhancement of public health efforts, and broadening of the scientific knowledge base.
Farida Camallia Zenal, Country National Veterinary Advisor at the United Nations Food and Agriculture Agency (FAO) in Indonesia, explained that the One Health concept aims to reduce, prevent, monitor, or control the risk of infectious diseases from animals to humans.
"The way the One Health concept works, of course, requires the removal of interdisciplinary barriers between human medicine, veterinary medicine and environmental science. This means that collaboration between sectors is needed," Zenal said.
Handling a disease, especially for zoonoses, according to Zenal, cannot be handled by one sector alone, but must be within a framework.
The One Health approach, she added, is very crucial in preventing the emergence of new epidemics.
"If you want good disease management, especially zoonoses, use this approach. One Health is a solution for the future," said Farida.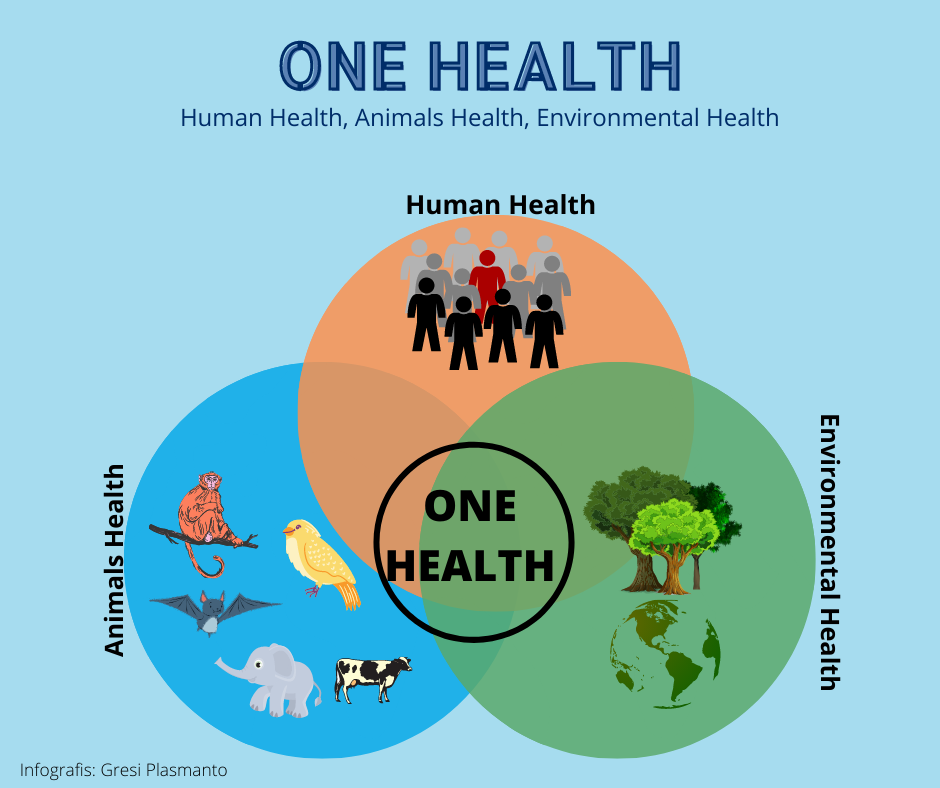 The implementation of One Health in Indonesia is led by the government and across ministries in collaboration with FAO Indonesia. According to a 2019 report published by FAO/Emergency Center for Transboundary Animal Diseases (ECTAD) Indonesia titled "One Health for a Better Future", the One Health program has been launched in 18 provinces in Indonesia.
Activities under the program include surveillance of livestock to prevent the spread of avian influenza viruses, swine flu, and mitigation of their impacts.
"Concrete One Health actions and multisectoral partnerships are built to collectively understand the potential spillover risks of pathogens from wildlife and humans," said Zenal.
Eva Susanti, Head of Disease Prevention and Control at the Jambi Health Office admitted that the Jambi administration has not yet implemented the One Health concept in preventing and controlling the long-tailed monkey malaria zoonosis that had infected the Orang Rimba and other communities.
But in the future, Susanti said, her office plans to cooperate and collaborate with related agencies in devising policies for handling malaria zoonoses.
"We will cooperate with the Animal Health Service (Keswan) to vaccinate animals, because reducing the population of animals or monkeys by killing them is unacceptable, so the intervention is to inoculate the animals," said Eva.
But there is another important factor: namely, the forest, which should not be forgotten. Director of the French National Center for Scientific Research (CNRS-CIRAD) Serge Morand in his research paper said, "We must give more role to forests in the context of human health, animal health and environmental sustainability."
In his research paper published in the journal Frontier in Veterinary Science, Serge Morand recommends that scientists, health workers, and policymakers must recognize the risks posed by lack of or mismanagement of forests.
For Selambai and his son Ngambur, and perhaps the entire Orang Rimba indigenous community, this way of thinking — in which the importance of forest sustainability is recognized – validates their way of life. Like their ancestors did before them, they believe the forest has many functions. Apart from being a living space, they believe the forest can protect against disease.
An earlier version of this story was published in Indonesian by Liputan6.com on 8 February 2022.
This story has been edited for length and clarity, and was produced with support from Internews' Earth Journalism Network.