Young journalists in Dili took part in a workshop aimed to increase their skill and capacity in environmental reporting. Topics covered include waste management, biodiversity and disaster risk management.
Dili, East Timor. As the recipient of an EJN Asia-Pacific Media Grant this year, our partner Fundasaun Media Development Centre (FMDC), a non-government organisation that supports independent and community media, has completed their first of a series of workshops, covering basic environmental reporting and several key environmental issues including waste management, biodiversity, and natural disaster risk management.
During the 5-day workshop, held from 19-23 June 2018, 20 young journalists from various media organisations and platforms engaged in discussions and group and individual exercises. This was the first training that focused on environmental issues since the establishment of the Timor-Leste Press Council.
The workshop also included a field trip to the Tibar landfill site in the Liquica district near Dili, where participants, including 10 women, learned about potential environmental impacts. Some of the participants interviewed local people from the nearby village, who work on the landfill site, combing through and separating the waste and collecting scraps to be sold. Founder of FMDC, Francisco De Silva Gari says the workshop is monumental for both FMDC and journalists in Dili.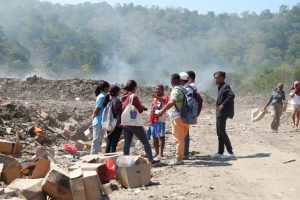 "This is the first workshop of its kind, where we are able to gage these young journalists about the importance of environmental issues and how to report them," says Silva. The workshop is part of FMDC's Strengthening Journalists' Capacity in Environmental Reporting in Timor-Leste project in partnership with EJN Asia-Pacific. Other activities include the establishment of Timor Leste Media and Environment Network, a competition in environmental journalism and the production of eight, half an hour radio programs highlighting environmental issues and innovative solutions to environmental problems.
The environmental journalism competition, organised by FMDC, is currently underway and has received 20 story submissions. This competition is part of a series of activities programmed by FMDC, to strengthen journalists' capacity in environmental reporting. Winners of the writing competition will be announced on August 17th, 2018.
Another program currently underway is the broadcast of Lian Meiu Ambiente or Voice for the Environment show on Radio Liberdade, which consists of 8 episodes. The half an hour episodes will shine a light on both environmental issues and innovative solutions. So far 2 out of 8 shows, discussing ecotourism and waste management, have been aired. Audio files are available here.
FMDC is also supporting several journalists in setting up timorverde.org, the first environmental news website in Timor-Leste, spearheaded by Kiku Lopes, a senior broadcast journalist who was a participant at the environmental journalism training.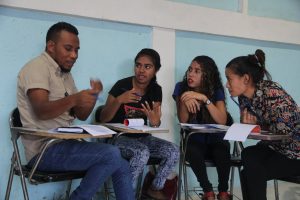 "We want to act fast, the training has been an eye-opener for us journalists here but we have a long way to go. This website is just the beginning. FMDC has been facilitating us with space to work they also support us with a laptop," says Lopes, who has been actively reaching out to journalists in the capital and 12 other districts, to encourage them to report on environmental issues and problems.
This article was first published by earthjournalism.net on 10 August 2018.