Jakarta's public water utility, PAM Jaya claims piped water coverage has reached 62 percent. However, a water NGO says coverage of piped water is at 35 percent, most residents in northern Jakarta are still struggling to access clean water. Meanwhile, a recently passed Water Law is expected to improve distribution of and access to clean water.
A version of this opinion piece was published by the Jakarta Post on 12 October 2019.
By Harry Surjadi
Clean water is not a given thing for many. For most residents in North Jakarta, especially those from poor households, not only do they have to work harder to access clean water but they also actually have to pay more for their water than people living in apartment.
Getting water, for them means having to push carts of six water containers to the nearest pumping station, or wait for an ambulant water vendor and shell out part of their hard-earned money.
One household spends about Rp40,000 for their daily clean water need, or Rp1.2 million for a month. This amount, according to data from the Statistics Indonesia (BPS), represent 36 percent of the average monthly income of the poor households (with four to five family members each) in 2019. BPS data put their monthly income at Rp3,358,360 (US$ 236.82) in Jakarta. 
The poor cannot get piped water because they lack legal property rights.
In the Dutch colonial era, piped water was mostly for the Dutch or European neighborhoods so most of the Europeans had piped water. The poor and indigenous inhabitants had to access water from public water tap or water vendors.
By 1968, when the capital's public water utility firm PAM Jaya was established, things had not changed for the poor. In the 1970s, only 10 percent of Jakarta's population had access to piped water. The poor usually could not get piped water because they lacked legal property rights.
The Asian Development Bank reported that piped water service coverage reached just 42 percent of Jakarta's 8 million inhabitants in 1990.
In 1991, the World Bank provided a $92 million loan for the PAM Jaya Supply Improvement Project (1990-1997) to supply the urban poor. The initial aim was to install 2,000 public water taps in areas that were unserved by the water supply network and to install 234,000 new household connections. The World Bank reported that the project resulted in more balanced production and distribution capacities. An additional 2.3 million people, including the poor, could access piped water.
In 1997, the water service was handed over to two private operators after PAM Jaya signed contracts with France's Suez and the United Kingdom's Thames Water. The 25-year contracts became effective on Feb. 1, 1998.
Suez partnered with the Salim Group, owned by a business crony of then-president Soeharto, to form PAM Lyonnaise Jaya (Palyja), while Thames Water established PT Aetra Air Jakarta (Aetra), a joint venture with Soeharto's son Sigit Harjojudanto. PT Palyja served the western zone and PT Aetra the eastern zone. The tenders were not open to the public.
The contracts were primarily aimed to serve the poor and to improve both service quality and water quality, but results were elusive.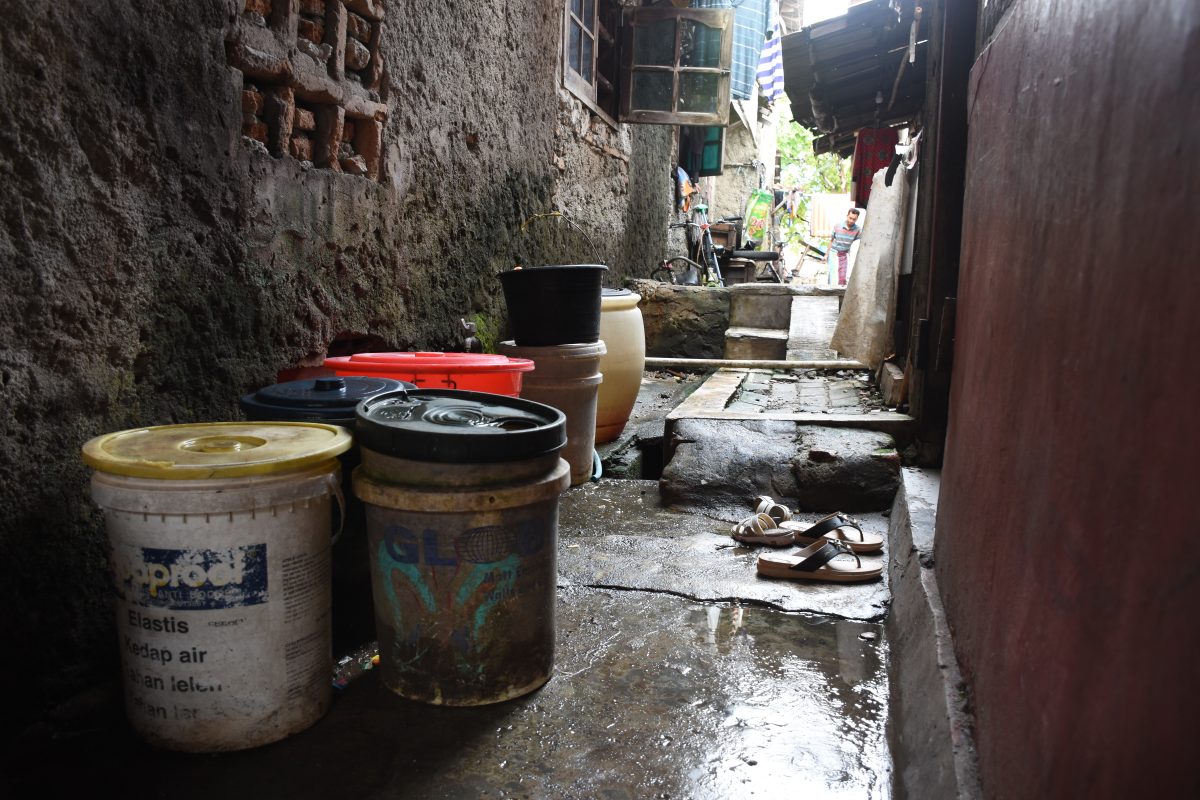 In 2006, Suez sold 49 percent of its shares to PT Astratel Nusantara and Citigroup Financial Products Inc., while Thames sold all its shares to a Singaporean company. At present, the Salim Group owns both Aetra and Palyja.
The companies promised that 70 percent of Jakartans would have piped water by 2020. This promise remains a promise and poor neighborhoods — mostly situated along Jakarta's northern coast — still lack piped water services.
PAM Jaya and the two operators claim that piped water coverage has reached 62 percent. However, Nila Ardhianie, Director of the Amrta Institute for Water Literacy, begged to differ. "According to our calculation based on water needs and the water sold, the coverage is only 35 percent," she said,
"Residents in Jakarta get 65 percent of their water from groundwater, which was around 806 million cubic meters in 2017," she added, adding that the two private companies had still failed to meet their promises, especially concerning poor residents.
The 1992 Dublin Statement on Water and Sustainable Development (the Dublin Principles), adopted at the International Conference on Water and the Environment, recognized water "as an economic good" (Principle No. 4), and it became common for multilateral financing institutions to push for private companies to take a greater role in providing clean water.
The privatization of Jakarta's water service proves that water is not an economic good. Water is difficult to commodify and privatize, but not it is impossible. "Privatizing water violates Indonesia's Constitution," said lawyer Tommy AM Tobing, who helped file a civil lawsuit against water privatization in Jakarta.
In November 2012, 12 people representing Jakarta residents filed a class action suit against the privatization of water in the capital. The lawsuit demanded that the court end water privatization, arguing that privatization had failed to meet residents' need for access to safe water, and had caused corruption and financial harm to the public budget. 
They demanded that the court void the contractual agreements between PAM Jaya and PT Palyja, and PAM Jaya and PT Aetra. In March 2015, the Central Jakarta District Court ruled in favor of the plaintiffs.
The private companies and other defendants appealed the ruling and in February 2016, the residents of Jakarta lost the suit. The plaintiffs then appealed to the Supreme Court, which ruled on Oct. 9, 2017, to end water privatization and to return Jakarta's water service to PAM Jaya.
But on March 22, 2018, the Finance Ministry filed a request for a judicial review of the case with the Supreme Court, which then dismissed the lawsuit. Tommy said that the Supreme Court dismissed the suit because of a procedural error — it was filed by 12 Jakarta residents, not an organization — and not because of its substance.
The House of Representatives finally passed the Water Resources Law on Sept. 19. Will this mean that poor households in Jakarta, supposedly the national benchmark, will be able to access affordable, clean water?
Long before the civil suit was filed, Amrta conducted several studies, held discussions and lobbied to increase awareness about water rights.
In February, Jakarta Governor Anies Baswedan told journalists the administration would gradually take over water services management from Aetra and Palyja, despite the ongoing judicial review over the nullification of their contracts. Anies said he had formed a water services management team to advise him on the water privatization
lawsuit.
Suhendi Nur, one of the 12 Jakarta residents who filed the lawsuit, was among those who agreed that Jakartans could again file a class action suit with the same demands under the new law. As a civil society organization, the Amrta Institute will continue to provide support with research and education to increase water literacy among Jakartans, in addition to corporate management and decision-makers.
Last Sept. 19, the House passed the new Water Law after a four-year vacuum following the annulment of the 2004 law by the Constitutional court in 2015.
Amrta's Nila cites the positive content of article 62 in the new law which states that water companies must open access to their water sources if people in their vicinity lack access to clean water or when their water sources dry up.
But the new Water Law does not clearly distinguish between bottled water companies that process clean water such as Aetra and Palyja.
"The spirit of the new Water Law is the same — water privatization," Nila concluded. Ensuring the right of poor citizens to access affordable clean water therefore remains our homework.
Harry Surjadi is a senior environmental journalists, founder of the Society of Indonesian Environmental Journalists (SIEJ), and co-founder of the Amrta Institute for Water Literacy, a research-based not-for-profit organization.
The views and opinions expressed in this article are those of the author and do not necessarily reflect the opinions or position of Ekuatorial.