The government includes the food estate program in the 2020-2024 National Strategic Program. The Sustainable Madani Foundation pushes for a common definition of food estate, open planning, and optimization of existing agricultural land.
In a bid to maintain food security, the Joko Widodo administration has announced the food estate program and enlisted it under the 2020-2024 National Strategic Plan. What this entails: several facilities and ease will be given to secure the success of a program that will require the involvement of several ministries, and millions of hectares of land.
A similar program was introduced under the Soeharto regime dubbed as the 1 Million Hectare Peatland Development. Swaths of forest were cleared, but the project came to a halt. An attempt to revive the program was made by former president Susilo Bambang Yudhoyono, but no progress was made.
The Jokowi administration's food estate, following its announcement, was met with pros and cons, due its unsuccessful implementation in the past. Those who supported the program highlight the need to strengthen Indonesia's food security, while those who oppose warn the potential massive environmental degradation that follows.
A non-profit organization that seeks to bridge relationships between stakeholders co achieve innovative solutions related to forest and land governance, the Madani Berkelanjutan foundation (People and Nature for Sustainable Indonesia), recently released their study on the implementation of the food estate in four provinces: Papua, Central Kalimantan, North and South Sumatera.
To learn more about their insight and perspective on the food estate program, the Society of Indonesian Environmental Journalists (SIEJ) talks to its knowledge management manager, Anggalia Putri Permatasari on Friday, 19 February 2021.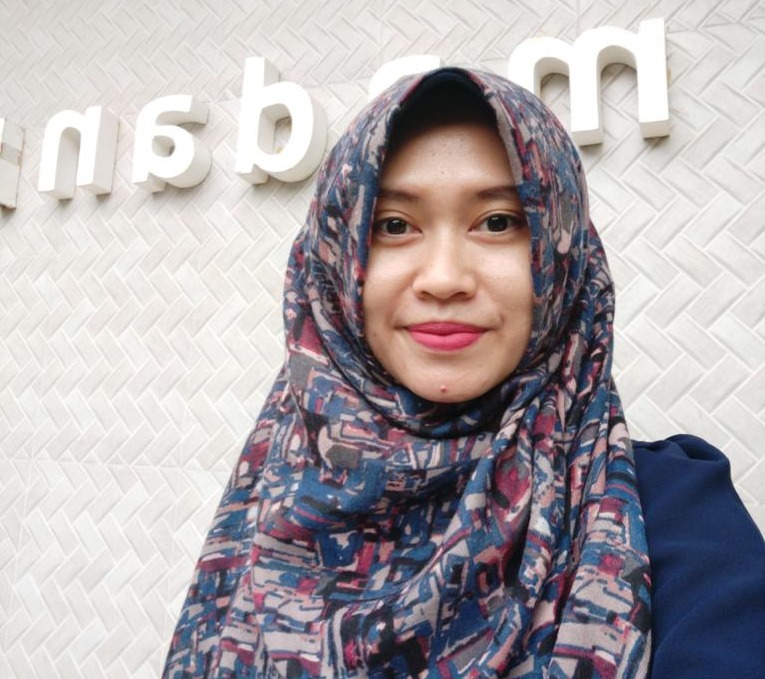 How does Madani view the implementation of the food estate program in Indonesia?
Madani focuses on natural forests and peat lands. Why? Because we believe that Indonesia's economic future can only be resilient if our natural forests are protected, our peat is protected, and our climate commitments are achieved. Moreover, this food problem is related to climate – micro and macro.
We see that there is something that needs to be dissected, focused on, and criticized because in the Area of Interest (AoI) for the food estate, we see so much of natural forests and peat lands. So, we analyze and try to estimate why there is a huge swath of natural forests designated for food estate, around 1.5 million hectares (ha) in the AoI. We calculate the value of the wood, the potential price of timber if the area is cleared for food estate. It turned out to be huge, up to Rp209 trillion. Wow, 's very tempting.
We don't want to be prejudice, but it looks like there are aspects that need to be revealed. That's why we hope to invite the government. Let's have a dialogue, let's open up the actual plan.
The Ministry of Environment and Forestry claims that the protected forests to be used for the food estate no longer has a protective function. Madani's comment on this?
This is interesting. We are happy to hear that the protected forests used no longer has protective function. But an interesting result from our study shows that most of the natural forests used in the AoI is not the protected forests.
The study finds that in fact, the most land used for the food estate is outside the area of protected forest, for instance production forest that can be converted. Then there is a lot of other land use areas, especially in Central Kalimantan. So okay, the protected forest used are those that are no longer functional, but the natural forest that is widely used is actually outside the protected forest, and that can be transferred.
So, from the policy construction, for instance under the Environment Ministry Regulation No24/2020 on the development of forest areas for food estate, (transfer) is permissible. May that be from the release of forest areas or through Forest Zone for Food Estate (KHKP) scheme, there can be use of wood, where the wood is taken, cut down.
Even outside of the protected forest areas, we have the calculation in four provinces, how much is inside and outside the protected areas. There's much more on the outside.
Does Madani see the possibility of permit deals for the use of natural forest as food estate?
We will not use that sentence. But what we are trying to uncover is what is going on here. Actually, the area of protected forest (for food estate) is small, only 74,016 hectares. While the total number of production forest (408,090 ha), conversion production forest (548,449 ha), and limited production forest (327,038 ha) is more than 1 million ha. SO the most threatened (forest) area is outside protected forest.
The government has announced that it's currently conducting a strategic environmental study (KLHS) but the document is yet to be accessed by the public, so the public can't participate in this study. So, we are not sure that the natural forest in the AoI is safe.
The government, in various opportunities have stated that it will involve other parties (in the study), including investors. This shows a red carpet is being laid out in this regulation. IN other permit processes, in industrial plant forest for instance, there are so many permits that a private investor must obtain. Under this food estate program, as it has been incepted into the National Strategic Projects, then based on the latest resident regulation (Perpres No. 109/2020), the government is in fact obliged to facilitate in permit and non-permit processes.
That's a cause of great concern to us and what led us to invite the government to be more transparent in the strategic environmental study, or please reconsider this project. Review its benefits and risks. We feel the risks outnumber the benefits.
We have not learned the latest government regulation issued. There were 45 government regulation and four presidential regulation that have been issued, but in the last draft that we downloaded in November 2020, we see the 'red carpet' has been expanded through the new Omnibus Law. No environmental assessment needed. Then, due to its nature as a food sovereignty program, it can be implemented in zones under moratorium. In fact, the project can even be exempted from paying forest resource provision (PSDH) and/or reforestation funds for timber taken.
The food estate is programmed by the government to ensure food security. In your opinion, is there a better way?
Food security is not our competency, many other parties that understand more. But what we are trying to do through the insight, is to highlight food security.
What are the pillars of food security? You have supply, accessibility, what about the distribution, then you look at the logistics, what about the public purchasing power, and last, there is utilization issue. The question is, "what problem is this food estate addressing?". On the government side, there is an issue of stock, production stock of domestic foods.
What we are questioning here is, why is there no evaluation of past food estate projects that is opened to the public. So, the public can learn why they were not effective, and when the projects failed, who's accountable? We don't see that.
So, if we are going to exploit forest and peat forest, that can lead to disaster, there should be precautionary principle. That must be based on the evaluation of past failure. The food estate project that has been launched this time is much broader, massive, compared to the past, we have to be more careful.
So, what other alternative is there to maintain food security?
On the issue of food security, many food activists have expressed alternatives. The first problem is not because there is not food, or low stock, but supply-demand imbalance. First, the domestic supply-demand gap must be addressed.
Second, we are rice-minded nation. Food diversification should be according to local customs. In Merauke for instance, we planted rice, meanwhile they eat sago.
Third, food politics is import politics. There has been many journals, study, even reports on the media, through which farmers are complaining about how food imports are causing the price of their crops. What determines food import here is not food supply, but who has the power. So, looking at (food) stock, reserves, we doubt that expansion is the solution.
And last, we see a contradiction here. If the government is trying to solve the issue of limited agriculture land, then why expand, why not empower productivity first?
The law that protects agricultural land, the eternal protection to our food, is in fact has been abolished by the Omnibus Law. On one side, agricultural land is being pushed back, but on the other, we are clearing up more land.
What about the pros and cons of this food estate project?
This is interesting. First of all, are we talking about the same food estate? First we need to make sure we are talking about the same product. That is why Madani is inviting our peers who have their pros and cons, to look into this together, is this the right Area of Interest, is that where the natural forest is?
It would be nice to open the plan first, the definite plan. Because the operational plan can vary and change.
We feel the government should really be transparent as we tend to be more careful when we are being observed. The strategic environmental study should be done with public participation. The government should share its evaluation result because this food estate is massive. In fact, the Agriculture Ministry stated that every province should propose its own food estate.
What is a good food estate? Should it be carried out on existing land, with local farmers or trans-migrants? There have been several cases, in Papua and Kalimantan for instance, where the local community does not have a farming culture like most Javanese. That does not make them bad, but that's just not their culture. If we force this on them, the result will not be optimal or the project me even be abandoned.
So we can say whether this food estate is totally good, or totally bad, but the first step is publish the evaluation result first. Open and share the operational plans, conduct the strategic environmental study with stakeholders. Then we can expect to see the pros and cons moving towards finding a balance.
That is why on 24 February we will organize a webinar that invites speakers from the environment ministry, agriculture ministry and other partners for a dialogue and to help answer our concerns.
Madani's recommendations to the government about this program?
Our advice from the start has always been to open data, so we are observing using the same data; forestry data, food estate data, investor data.
Second, concerning food in Indonesia, we believe if the government protects the forest and peat land, that will contribute to climate crisis response, in turn will improve agriculture. When the forest is destroyed, micro climate is damaged, agriculture will be bad. SO climate commitment is good for food security in Indonesia. Our recommendation is to look at the long-term benefits, rather than the short-term.
Third, due to the high conversion rate of agriculture land into non-agriculture, protect the existing agriculture land. So please reconsider the elimination of the eternal agriculture land protection.
Fourth, if we wish to address the problem of shrinking agriculture land, we have the agriculture reform program. A well implemented agriculture reform will help improve farmers' prosperity.
Please extend the 'red carpet' treatment to social forestry. We are confident that when an agriculture reform runs well, there is no need for further clearance of the natural forest and peat forest. We have seen many good practices by the communities such as agroforestry, silvopasture, and the environment ministry has many experts on these issues. That's where these facilities and incentives should be given to.
And last, is there a guarantee, for when it fails? For example, we open up more forest for farmland, then it fails, what next? The current government has time until 2024, while developing a food estate takes years. How will it move forward as our RPJMN (National Medium Term Development Plan) is only until 2024? No prejudice intended but the worst-case scenario is that we will see forests cleared, trees cut down and timber sold, farmland created, but then abandoned.